Our consumer power theme helps us navigate the disruptive forces facing retailers.
The UK high street has been hit by a perfect storm thanks to a combination of the growth of online shopping, upward-only rent reviews and soaring business rates. And that's keeping the sluggish economy, Brexit, the general election and the rain out of it. Once the key Christmas trading period is behind us, insolvencies and CVAs (company voluntary arrangements) – a device allowing retailers to continue to trade while renegotiating their debts and crucially their rental obligations – will probably re-accelerate. But although the UK high street may be down for now, on a long-term view we believe there are some key areas of bricks and mortar retail which will continue to thrive.
Growing consumer power
Our thematic framework, and specifically our 'consumer power' theme, helps us to navigate the disruption facing retailers around the world and give us an insight into how the sector may evolve. The cornerstone of our research into 'consumer power' is that increasing internet usage has irrevocably changed the consumer landscape, leading to increased choice and price transparency. Consumers can access information, compare prices, read online reviews and influencer preferences, and as a result consumer companies no longer control the narrative. The onus, indeed the urgent need, is for consumer-facing companies to differentiate themselves against this shifting landscape.
A shift in favour of experiential spending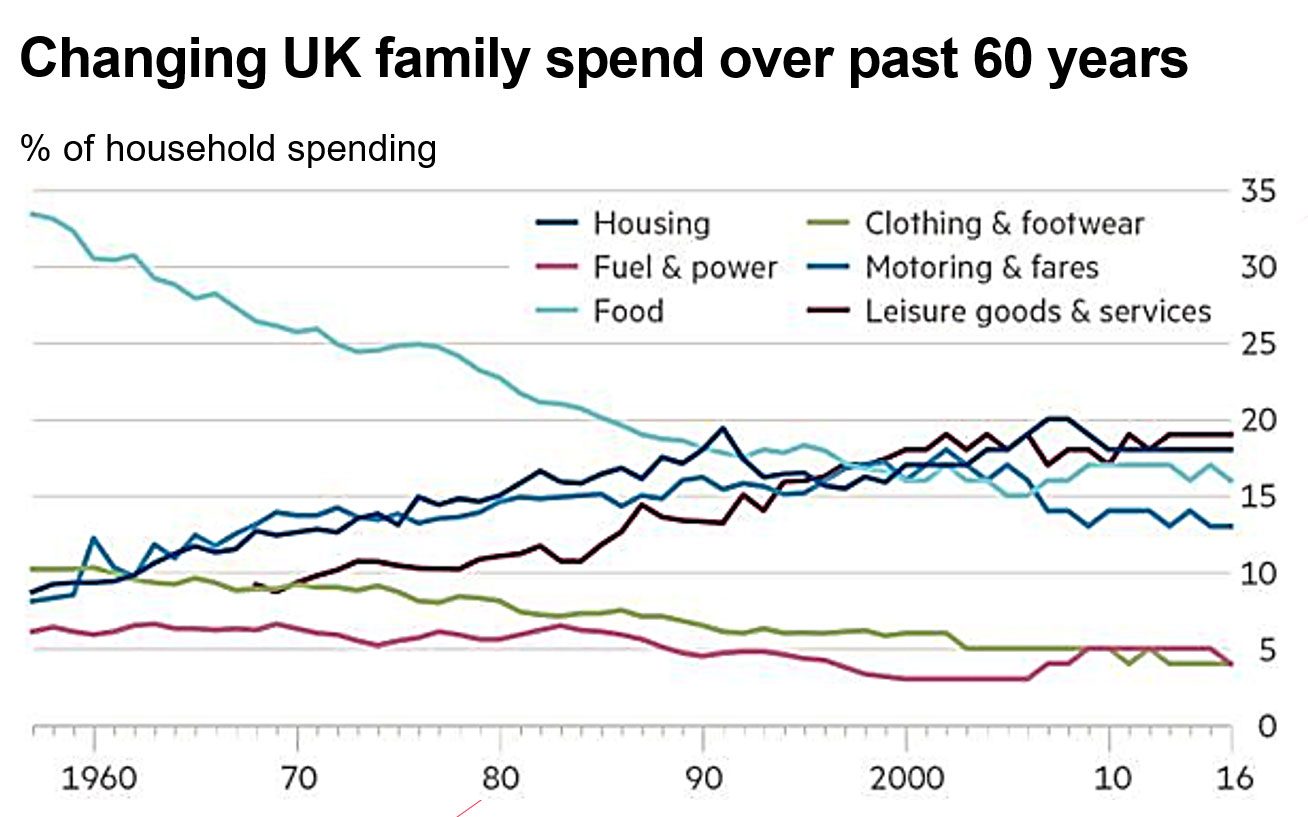 Source: ONS
One way the high street can differentiate itself is to offer more experiences and services in their stores as opposed to the opportunity to just acquire more 'stuff'. Millennials have driven a wallet-share shift away from spending on material possessions to spending more on experiences. And the ability to share everything from travel and sports to a great new restaurant via social media platforms is amplifying this trend. In the UK, there is a significant tailwind for eating out: 18-24 year olds eat out on average 28.3 times per calendar month.1 The millennial cohort eats out on average 23 times per calendar month, while the over-50s on average do so just nine times. Meanwhile, the fitness industry is flourishing. In the UK, the value of the fitness market is up 4.2% year-on-year,2 comfortably outstripping the rate of economic growth and retail sales. Gym membership penetration is up to 15.6%, versus 14.9% last year.
Growth of the value sector
With the divergence in incomes, and increased experiential spending, when consumers set out to make physical purchases, they increasingly want a bargain and, given the ubiquity of price information, brands and retailers offering the best value for money have a clear advantage. Companies with a lean cost structure which allows them to offer demonstrably low prices are increasing their market share. According to GlobalData, between 2012 and 2017, the UK discount retail market grew by 75.1%, and it is forecast to grow by 36.1% between 2017 and 2022. It is estimated that discounters will make £13.7bn of food and grocery sales between 2012 and 2022,3 while discounters focused on DIY and gardening and health & beauty are forecast to increase sales from £1.4bn to £2.0bn between 2012 and 2022.3
Bricks-and-mortar stores have a key role in a multi-channel world
Despite considerable headwinds, we believe the high street is too ingrained in the fabric of British life for it to vanish completely from our towns and cities. But a painful evolution is underway. From an investment standpoint, we believe the bricks-and-mortar businesses best placed to survive will be those that take a multi-channel approach, providing customers with the choice and convenience they demand. Discount retail can continue to entice consumers to the high street as value-for-money offers will be impossible for online retailers to sustainably replicate. Finally, there is an opportunity for bricks-and-mortar businesses to creatively integrate interesting experiences and services – like cafes, restaurants, salons and gyms – into their formats.
Sources
1 Deloitte "The UK Casual Dining Market", 2016
2 2019 State of the UK Fitness Industry
3 GlobalData "UK Discount Retailing 2017-2022"
This is a financial promotion. These opinions should not be construed as investment or other advice and are subject to change. This material is for information purposes only. This material is for professional investors only. Any reference to a specific security, country or sector should not be construed as a recommendation to buy or sell investments in those countries or sectors. Please note that holdings and positioning are subject to change without notice.