Newton and BNY Mellon pull together for Cancer Research UK
Newton Investment Management and BNY Mellon are proud to sponsor the Oxford and Cambridge Boat Races. Our sponsorship tenure has seen some ground-breaking firsts. Most notably in 2015, the move of the Women's Boat Race to the Championship Course in London, thus gaining it equality in stature and funding with the men's race. In 2016, in a world first, we donated our title sponsorship rights to Cancer Research UK thereby creating the Cancer Research UK Boat Races. This has given unprecedented brand awareness to Cancer Research UK. In 2017 we are focusing all our efforts on pulling together to raise vital funds for Cancer Research UK in order to help beat cancer sooner.
Find out more at the official Boat Races website.
THE CELEBRITY BOAT RACE
This year's event will witness two additional boats taking to the water – a pair of celebrity teams coached by the rowing royalty partnership of Sir Steve Redgrave CBE and James Cracknell OBE, in the first ever Cancer Research UK Celebrity Boat Race. The event has been created by BNY Mellon and Newton as part of the #PullTogether campaign to raise awareness and funds for CRUK, and was broadcast as part of BBC One's coverage.
Sir Steve Redgrave and James Cracknell compare tactics before the Celebrity Boat Race.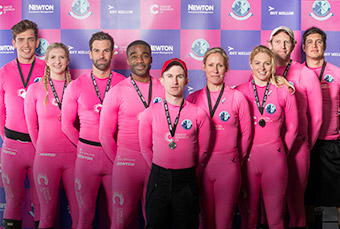 James Cracknell (Coach)
Sophie Raworth (Captain)
Andrew Triggs-Hodge (Vice Captain)
James Fox
Rebecca Adlington
Vernon Kay
Emma Spruce (OUWBC Blue Boat 2016)
Gethin Jones
Ore Oduba
Zoe Lyons (Cox)