One of the most distinct aspects of current consumer trends is the growing move by millennials to spend money on experiences, rather than things. This spending shift has a host of implications for companies and investors.
In the past, social status was driven far more by the ownership of impressive or expensive items. If you wanted to make your wealth known, you would buy a big house or a fancy new car, and wear expensive clothes and jewellery. However, the general social climate is changing for young people, with material possessions no longer conveying the social currency they once did. In addition, experiences can have somewhat of a levelling effect, as the quality of an experience is more subjective, whereas most people can see the allure of a luxury sports car over a family hatchback. Now, experiences are the focus of millennial spending, with the ability to share experiences on social media amplifying this trend.
This change in consumer preferences will affect a number of different of industries, most notably travel, restaurants, entertainment and companies in the wellness and fitness space.
In the US, all industries within the travel sector have exhibited strong growth this cycle. The standout performer has been the hotel industry, which has grown at 6% annually, while the cruise, car rental and airline industries are not far behind. In terms of destinations, some countries, such as Vietnam, are seeing visitor numbers grow by up to 30% annually. As flights around the world become cheaper, more convenient and more accessible to many, the travel sector is likely to benefit from a greater emphasis on buying experiences rather than things.
The eating-out experience
Of course, international travel is still out of reach for the majority of the world's citizens, and even domestic travel remains too expensive for many people around the globe. However, there are plenty of cheaper experiences that people are also spending money on at home. In the UK, the restaurant industry is well served by these trends, with 18-24 year olds eating out an average of 28.3 times per month! The comparable figure for those over 50 is a mere nine times per month.
The BBC explored the rise of Instagram on food and eating, and reported one restaurant owner's view that "For us, today's dining experience is no longer just about having great food and drink…It's all about creating unique experiences that our customers can document on Instagram and social media."[1] While there remain serious financial challenges to young people saving for the long term, it is clear that younger generations do place a much higher premium on the experience of eating out, and spend their disposable income accordingly.
Another well-publicised new trend is that young people are more interested in fitness; millennial spending on health and appearance is particularly pronounced. In the UK, the value of the fitness market is up 6.3% year on year, considerably exceeding overall economic growth. At 15%, gym penetration is now at an all-time high. There are, of course, a host of other consumer sectors profiting alongside gyms and fitness equipment, with a renewed focus on health and wellness also driving sales of athletic wear, health-conscious foods and sports nutrition products. While these are clearly products rather than experiences, they are part of the overall experience of fitness and are a key spending area for younger generations.
Finally, entertainment is also benefiting from this consumer trend. Spending is rising across both the sports and audio-visual entertainment sectors, with the fastest growth rate of all being seen in eSports (competitions involving video games), which sit at the intersection of these two forms of entertainment. This market is predicted to grow at a 22% compound annual growth rate until 2022. Music is also positively affected by these tailwinds, with paid streaming services ushering in a new era for digital content. Some bricks-and-mortar stores are trying to incorporate experiential entertainment into the shopping experience, by offering nail bars, chill-out spaces or a bar or café for example to entice experience-driven shoppers.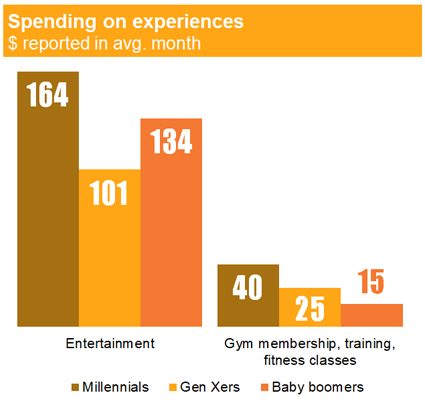 Source: Cashing in on the US Experience Economy, McKinsey, Dec 2017
Keep it social
With Facebook boasting 2.3 billion users, and Instagram now having a billion active users every month, social media underpins the increased spending in all of these experience-related industries. In aggregate, Instagram users like 4.2 billion posts every day, with many of those posts sharing beautiful brunches, far-flung destinations, the latest workout or a weekend at a music festival. The social sharing of purchases makes even the act of buying a tangible item more of an experience, by arguably merging material and experiential worlds.
Of course, it is always important to be mindful of the risks that accompany any economic trend. So far, many of these spending preferences appear to be concentrated with millennials, so there is no guarantee that the related trends will remain as powerful when millennials shift to spending more on housing and childcare, and as Gen Z (those born between the mid-1990s and mid-2000s) become the bulk of the younger demographic. While it is likely that Gen Z will also spend heavily on experiences, there is a chance that this is a trend unique to a single generation, whose relevance would thus moderate as demographics change. It is also possible that the shift from buying material things to preferring experiences is cyclical, and we may see a resurgence of spending on tangible items in the future.
While we always keep potential shifts in mind, for now it seems probable to us that greater spending on experiences is a trend that will continue to develop over the long term. This is likely to offer investment opportunities in the travel, fitness, entertainment and restaurant industries, and will be bolstered by increased usage of social media. Technology and millennials have united to drive a wallet share shift away from material possessions to experiences, and consumer sectors – and investors – will need to adjust accordingly.
[1] https://www.bbc.co.uk/news/uk-england-london-42012732
This is a financial promotion. These opinions should not be construed as investment or other advice and are subject to change. This material is for information purposes only. This material is for professional investors only. Any reference to a specific security, country or sector should not be construed as a recommendation to buy or sell investments in those countries or sectors. Please note that holdings and positioning are subject to change without notice.
Important information
This material is for Australian wholesale clients only and is not intended for distribution to, nor should it be relied upon by, retail clients. This information has not been prepared to take into account the investment objectives, financial objectives or particular needs of any particular person. Before making an investment decision you should carefully consider, with or without the assistance of a financial adviser, whether such an investment strategy is appropriate in light of your particular investment needs, objectives and financial circumstances.
Newton Investment Management Limited is exempt from the requirement to hold an Australian financial services licence in respect of the financial services it provides to wholesale clients in Australia and is authorised and regulated by the Financial Conduct Authority of the UK under UK laws, which differ from Australian laws.
Newton Investment Management Limited (Newton) is authorised and regulated in the UK by the Financial Conduct Authority (FCA), 12 Endeavour Square, London, E20 1JN. Newton is providing financial services to wholesale clients in Australia in reliance on ASIC Corporations (Repeal and Transitional) Instrument 2016/396, a copy of which is on the website of the Australian Securities and Investments Commission, www.asic.gov.au. The instrument exempts entities that are authorised and regulated in the UK by the FCA, such as Newton, from the need to hold an Australian financial services license under the Corporations Act 2001 for certain financial services provided to Australian wholesale clients on certain conditions. Financial services provided by Newton are regulated by the FCA under the laws and regulatory requirements of the United Kingdom, which are different to the laws applying in Australia.