A trip to Vietnam has highlighted the dual opportunity of the growing middle class and potential trade-war tailwinds.
A combination of rising Chinese labor costs and latterly the urge to sidestep President Trump's trade tariffs means that there has been no let-up in the steady stream of manufacturers looking to shift production from China to lower-cost Asian countries. Anecdotal reports suggest many companies favor Vietnam, which has a particularly strong track record in electronics manufacturing. According to the Ministry of Planning and Investment, Vietnam received US$11.96 billion FDI (foreign direct investment) in the January-August 2019 period, up 6.3% versus the year before.
However, President Trump's comments in a recent interview that "… Vietnam takes advantage of us even worse than China" have caused concern that the US could impose tariffs on Vietnam. Keen to placate the US, the authorities are clamping down on the practice of relabeling goods manufactured elsewhere as 'Made in Vietnam' in order to dodge tariffs.
The Long-Term Picture – Strong Growth and Inflation Subdued
The short-term slings and arrows of US trade policy aside, Vietnam's transformation since the Vietnamese government introduced the Doi Moi economic reforms, designed to create a 'socialist-orientated market economy', in the late 1980s has been nothing short of extraordinary.
For several years now Vietnam has been among the world's fastest-growing economies. GDP (gross domestic product) growth reached a 10-year high of 7.1% in 2018, and averaged 6.6% per annum during the 2014-2018 period.[1] The country has continued to enjoy strong economic growth this year, and the prime minister recently predicted that GDP growth would exceed 6.8% in 2019. Inflation was a relatively subdued 2.2% in October 2019.[2]
Broad-Based Expansion
While Vietnam's export growth has outstripped the emerging-market average for several years – see chart below – the domestic economy is in pretty good shape. Consumption accounts for approximately 70% of GDP thanks partly to the growth of the middle-class.[3] Vietnam now boasts 30 million people earning over US$715 per month and has 22,000 millionaires. Some forecasts predict that the middle class could represent 50% of the population by 2025. Smartphone penetration has risen from 30% in 2012 to 86% in 2018, and car ownership has grown from 17.5 to 32 per 1,000 over the same period.[4]
Vietnam vs. Emerging Markets – Exports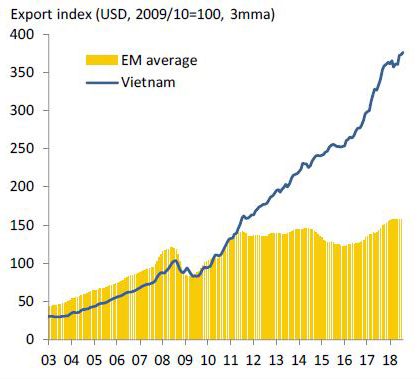 Source: CEIC, 2019
During a recent visit to Vietnam we met an IT services business, an education company, a telecommunications provider and a multi-format electronics and grocery retailer, among others. These meetings convinced us that some companies servicing Vietnam's burgeoning middle class have outstanding and arguably underappreciated growth prospects.
The Market Opportunity?
However, one difficulty that potential foreign investors face is accessing Vietnam's market. Vietnamese companies are subject to 49% foreign-ownership limits. Several of the stocks we would consider most attractive are already at, or close to, these limits. There are ways to buy into these names, but it typically involves paying a sizeable premium, or being patient. There is the intention to alleviate some of this problem via a Thai-style NVDR (non-voting depositary receipt) system, but its implementation could take several years. However, if there is progress on this issue, Vietnam could be put on the MSCI watch-list for upgrading from frontier market to emerging-market status in 2021 and included in the index in 2022, which would trigger substantial inflows.
[1] https://data.worldbank.org/indicator/NY.GDP.MKTP.KD.ZG?locations=VN&display=graph
[2] https://tradingeconomics.com/vietnam/inflation-cpi
[3] https://www.ceicdata.com/en/indicator/vietnam/private-consumption–of-nominal-gdp
[4] Sources: Knight Frank, BCG, Neilson, Statista, DC, 2019
Photo: Igor Grochev/Shutterstock
Any reference to a specific security, country or sector should not be construed as a recommendation to buy or sell this security, country or sector. Please note that strategy holdings and positioning are subject to change without notice. Compared to more established economies, the value of investments in emerging markets may be subject to greater volatility, owing to differences in generally accepted accounting principles or from economic, political instability or less developed market practices.
Important information
This is a financial promotion. Issued by Newton Investment Management Limited, The Bank of New York Mellon Centre, 160 Queen Victoria Street, London, EC4V 4LA. Newton Investment Management Limited is authorized and regulated by the Financial Conduct Authority, 12 Endeavour Square, London, E20 1JN and is a subsidiary of The Bank of New York Mellon Corporation. 'Newton' and/or 'Newton Investment Management' brand refers to Newton Investment Management Limited. Newton is registered in England No. 01371973. VAT registration number GB: 577 7181 95. Newton is registered with the SEC as an investment adviser under the Investment Advisers Act of 1940. Newton's investment business is described in Form ADV, Part 1 and 2, which can be obtained from the SEC.gov website or obtained upon request. Material in this publication is for general information only. The opinions expressed in this document are those of Newton and should not be construed as investment advice or recommendations for any purchase or sale of any specific security or commodity. Certain information contained herein is based on outside sources believed to be reliable, but its accuracy is not guaranteed. You should consult your advisor to determine whether any particular investment strategy is appropriate. This material is for institutional investors only.
Personnel of certain of our BNY Mellon affiliates may act as: (i) registered representatives of BNY Mellon Securities Corporation (in its capacity as a registered broker-dealer) to offer securities, (ii) officers of the Bank of New York Mellon (a New York chartered bank) to offer bank-maintained collective investment funds, and (iii) Associated Persons of BNY Mellon Securities Corporation (in its capacity as a registered investment adviser) to offer separately managed accounts managed by BNY Mellon Investment Management firms, including Newton and (iv) representatives of Newton Americas, a Division of BNY Mellon Securities Corporation, U.S. Distributor of Newton Investment Management Limited.
Unless you are notified to the contrary, the products and services mentioned are not insured by the FDIC (or by any governmental entity) and are not guaranteed by or obligations of The Bank of New York or any of its affiliates. The Bank of New York assumes no responsibility for the accuracy or completeness of the above data and disclaims all expressed or implied warranties in connection therewith. © 2020 The Bank of New York Company, Inc. All rights reserved.