The first session of our annual investment conference on November 12 looked at the profound impact of Covid-19 on our world and provided a fascinating insight into how the last few months have accelerated certain key trends while hindering others in the world around us.
You can watch the highlights reel here.
Daisy McAndrew hosted the session and was joined in the studio by chief investment officer Curt Custard, deputy chief investment officer Charles French, Real Return investment leader Suzanne Hutchins and equity opportunities portfolio manager Paul Markham, who added their views on four thought-provoking videos looking at different trends and the likely future implications for investors and individuals.
The first report was from thematic research analyst Ed Geall, who assessed the unprecedented disruption brought about by the pandemic, and the consequent impact on areas such as online education, work-from-home technology and global travel.
Ed expressed optimism in the global step change around belief in the efficacy of renewable energy that took place during the spring lockdowns, notably in both China and the US, which pointed the way to greener and more sustainable energy in the future. He also analyzed the implications for global supply chains, which have been thrown into stark relief by the pandemic, owing to the world's continued heavy reliance on China.
Ed also discussed how already huge global demand for online education had been accelerated out of necessity by the effects of the pandemic across the globe.
From primary school students, to online lectures, to extracurricular classes and professional courses, the global online education market is forecast to reach $350billion by 2025.

Ed Geall, Thematic Research Analyst, November 12 2020
In the second video, Real Return global strategist Brendan Mulhern travelled forward to 2035 to see how the role of the state had been profoundly changed by the Covid-19 experience. He observed that 15 years into the future, there was virtually no unemployment, as a form of universal basic income first manifested in the furlough schemes of 2020 had never really ended.
He believed part of the change could be traced back to President Trump's US presidency, and the continued interest in building out domestic industries which played out more globally in the ensuing years, as countries sought to gain greater control over their own supply chains and domestic economies.
Brendan noted a tighter fiscal and monetary integration in Europe, and continuing tensions with China and the West. What had begun as a focus on profound US/China geopolitical differences and China's dominance of the global supply chain, had broadened out to increasingly encompass the protection of individual countries' intellectual property and an accelerated deglobalization trend.
Relations between the US and China in 2035 is similar to the Cold War between the US and Soviet Russia, but this time, it has been about technological prowess rather than military prowess.

Brendan Mulhern, Real Return global Strategist, November 12 2035
In the third report, global research analyst Jonathan McMullan looked at how the pandemic has accelerated growth and change related to digitalization, specifically in areas such as cloud computing, artificial intelligence (AI), digital transformation, semiconductors, and the rise of dominant internet platforms. While many of these sectors were already growing rapidly, the pandemic has accelerated this growth further.
Jonathan noted that the rapid growth of internet connectivity had probably helped to support collective actions to counter Covid-19 in a way that would simply not have been possible a decade ago, but added that the urgent need for all companies to adapt and embrace digital technology had been made ever more apparent by the pandemic.
He also highlighted the astonishing rate of technological advancement in the processing power of semiconductors, as well as in areas such as industrial robotics and smart consumer technology. While he noted that thus far, advancements in the automobile sector had notably lagged other areas of technology, global equity manager Paul Markham was optimistic that lower battery prices and the simplification of electric-vehicle technology should afford that sector a chance to play catch-up in the coming years.
The digital haves and have nots have been laid bare. This has increased the opportunity for companies that can embrace new technology and help others become ready for the new digital age.

Jonathan McMullan, Global Research Analyst, November 12 2020
In the final report, global research analyst Maria Toneva travelled forward to 2030 to examine the rapid technological advances made in online retail and the consumer shopping experience. Maria described the personalization of the shopping experience, which had been led by advancements in AI and machine learning which allow a bespoke virtual experience for online shoppers.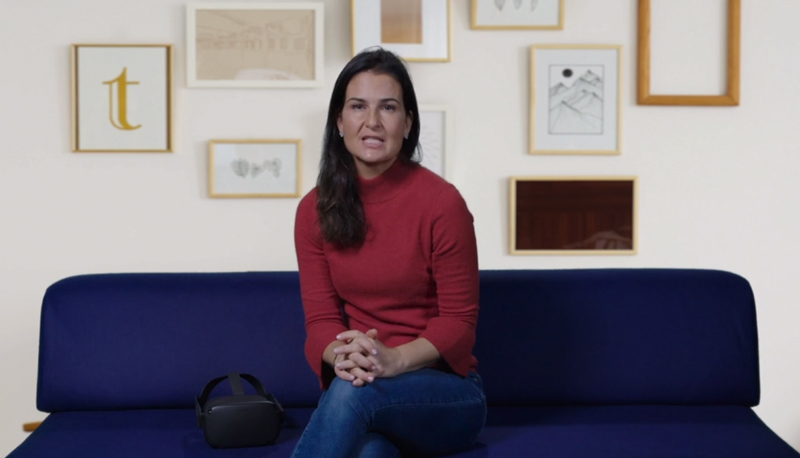 With virtual shopping assistants able to offer highly personalized products and sizes tailored to the individual, shopping becomes more efficient and accurate, while waste is also reduced. Maria noted that with drone delivery gradually becoming more ubiquitous, retailers would also be able to achieve better cash-flow generation from tighter inventory, and lower overheads from a reduced bricks-and-mortar presence.
Gradually, we had easier access to product information and price comparison in real time. Sizing ceased being an issue….with advances in augmented reality and machine learning, shopping became highly personalized, and much less effort for both the retailer and the customer.

Maria Toneva, Global Research Analyst, November 12 2030
Any reference to a specific security, country or sector should not be construed as a recommendation to buy or sell this security, country or sector. Please note that strategy holdings and positioning are subject to change without notice.
Important information
This is a financial promotion. Issued by Newton Investment Management Limited, The Bank of New York Mellon Centre, 160 Queen Victoria Street, London, EC4V 4LA. Newton Investment Management Limited is authorized and regulated by the Financial Conduct Authority, 12 Endeavour Square, London, E20 1JN and is a subsidiary of The Bank of New York Mellon Corporation. 'Newton' and/or 'Newton Investment Management' brand refers to Newton Investment Management Limited. Newton is registered in England No. 01371973. VAT registration number GB: 577 7181 95. Newton is registered with the SEC as an investment adviser under the Investment Advisers Act of 1940. Newton's investment business is described in Form ADV, Part 1 and 2, which can be obtained from the SEC.gov website or obtained upon request. Material in this publication is for general information only. The opinions expressed in this document are those of Newton and should not be construed as investment advice or recommendations for any purchase or sale of any specific security or commodity. Certain information contained herein is based on outside sources believed to be reliable, but its accuracy is not guaranteed. You should consult your advisor to determine whether any particular investment strategy is appropriate. This material is for institutional investors only.
Personnel of certain of our BNY Mellon affiliates may act as: (i) registered representatives of BNY Mellon Securities Corporation (in its capacity as a registered broker-dealer) to offer securities, (ii) officers of the Bank of New York Mellon (a New York chartered bank) to offer bank-maintained collective investment funds, and (iii) Associated Persons of BNY Mellon Securities Corporation (in its capacity as a registered investment adviser) to offer separately managed accounts managed by BNY Mellon Investment Management firms, including Newton and (iv) representatives of Newton Americas, a Division of BNY Mellon Securities Corporation, U.S. Distributor of Newton Investment Management Limited.
Unless you are notified to the contrary, the products and services mentioned are not insured by the FDIC (or by any governmental entity) and are not guaranteed by or obligations of The Bank of New York or any of its affiliates. The Bank of New York assumes no responsibility for the accuracy or completeness of the above data and disclaims all expressed or implied warranties in connection therewith. © 2020 The Bank of New York Company, Inc. All rights reserved.