At Newton, we are committed to responsible investment and stewardship, which is why we have been a signatory to the UN Principles for Responsible Investment (PRI) since 2007.
The PRI is an independent, global proponent of responsible investment, and works with its signatories to better understand and encourage the integration of environmental, social and governance (ESG) considerations into investment and stewardship decisions. Since the launch of the PRI in 2006, it has grown from 100 signatories to over 2,300, and we are proud to have been a signatory for over a decade.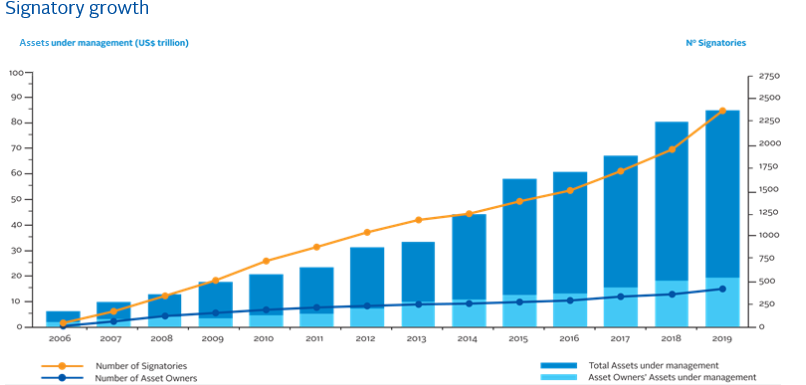 Source: https://www.unpri.org/about-the-pri
Signatories to the PRI commit to adopt the following six principles for responsible investment:
We will incorporate ESG issues into investment analysis and decision-making processes
We will be active owners and incorporate ESG issues into our ownership policies and practices
We will seek appropriate disclosure on ESG issues by the entities in which we invest
We will promote acceptance and implementation of the principles within the investment industry
We will work together to enhance our effectiveness in implementing the principles
We will report on our activities and progress towards implementing the principles
As part of our commitment to the PRI, we are required to report annually on our approach to, and implementation of, ESG integration throughout our investment process, and our role as responsible owners. We are very proud that, in the latest PRI annual assessment report for 2019, we have been awarded an A+ rating overall for the third consecutive year. It is important to us that our credentials in responsible investment are independently verified, and confirmed in the consistently high ratings we have achieved.

We are pleased to have been awarded the highest rating possible (A+) in all five areas assessed, particularly in a year in which the UN PRI has been increasing the expectations required of signatories in achieving these top ratings. Only 25.5% of all respondents and 24.5% of asset managers received an overall A+ rating, with A+ scores strongly outperforming the median score in all categories.
However, our commitment to responsible investment is not about ticking boxes. We are committed to responsible investment because we think it leads to better investment decisions. We are pleased that the PRI has independently agreed that our responsible investment practices meet its highest standards.
Any reference to a specific security, country or sector should not be construed as a recommendation to buy or sell this security, country or sector. Please note that strategy holdings and positioning are subject to change without notice.
Important information
This is a financial promotion. Issued by Newton Investment Management Limited, The Bank of New York Mellon Centre, 160 Queen Victoria Street, London, EC4V 4LA. Newton Investment Management Limited is authorized and regulated by the Financial Conduct Authority, 12 Endeavour Square, London, E20 1JN and is a subsidiary of The Bank of New York Mellon Corporation. 'Newton' and/or 'Newton Investment Management' brand refers to Newton Investment Management Limited. Newton is registered in England No. 01371973. VAT registration number GB: 577 7181 95. Newton is registered with the SEC as an investment adviser under the Investment Advisers Act of 1940. Newton's investment business is described in Form ADV, Part 1 and 2, which can be obtained from the SEC.gov website or obtained upon request. Material in this publication is for general information only. The opinions expressed in this document are those of Newton and should not be construed as investment advice or recommendations for any purchase or sale of any specific security or commodity. Certain information contained herein is based on outside sources believed to be reliable, but its accuracy is not guaranteed. You should consult your advisor to determine whether any particular investment strategy is appropriate. This material is for institutional investors only.
Personnel of certain of our BNY Mellon affiliates may act as: (i) registered representatives of BNY Mellon Securities Corporation (in its capacity as a registered broker-dealer) to offer securities, (ii) officers of the Bank of New York Mellon (a New York chartered bank) to offer bank-maintained collective investment funds, and (iii) Associated Persons of BNY Mellon Securities Corporation (in its capacity as a registered investment adviser) to offer separately managed accounts managed by BNY Mellon Investment Management firms, including Newton and (iv) representatives of Newton Americas, a Division of BNY Mellon Securities Corporation, U.S. Distributor of Newton Investment Management Limited.
Unless you are notified to the contrary, the products and services mentioned are not insured by the FDIC (or by any governmental entity) and are not guaranteed by or obligations of The Bank of New York or any of its affiliates. The Bank of New York assumes no responsibility for the accuracy or completeness of the above data and disclaims all expressed or implied warranties in connection therewith. © 2020 The Bank of New York Company, Inc. All rights reserved.