The month of January is thought by many (albeit perhaps wrongly) to be named after the Roman god Janus, who was often depicted as having two faces – one looking to the past and the other to the future. Such a figure of transitions and dualities is a fitting metaphor as investors enter a new year – and decade. The backdrop is characterised by opposing views as to whether renewed policy stimulus is s쳮ding in resuscitating the global economy, or whether the synchronised slowdown witnessed during 2019 hints at a more precarious outlook for market participants.
Past and estimated future GDP growth
(%)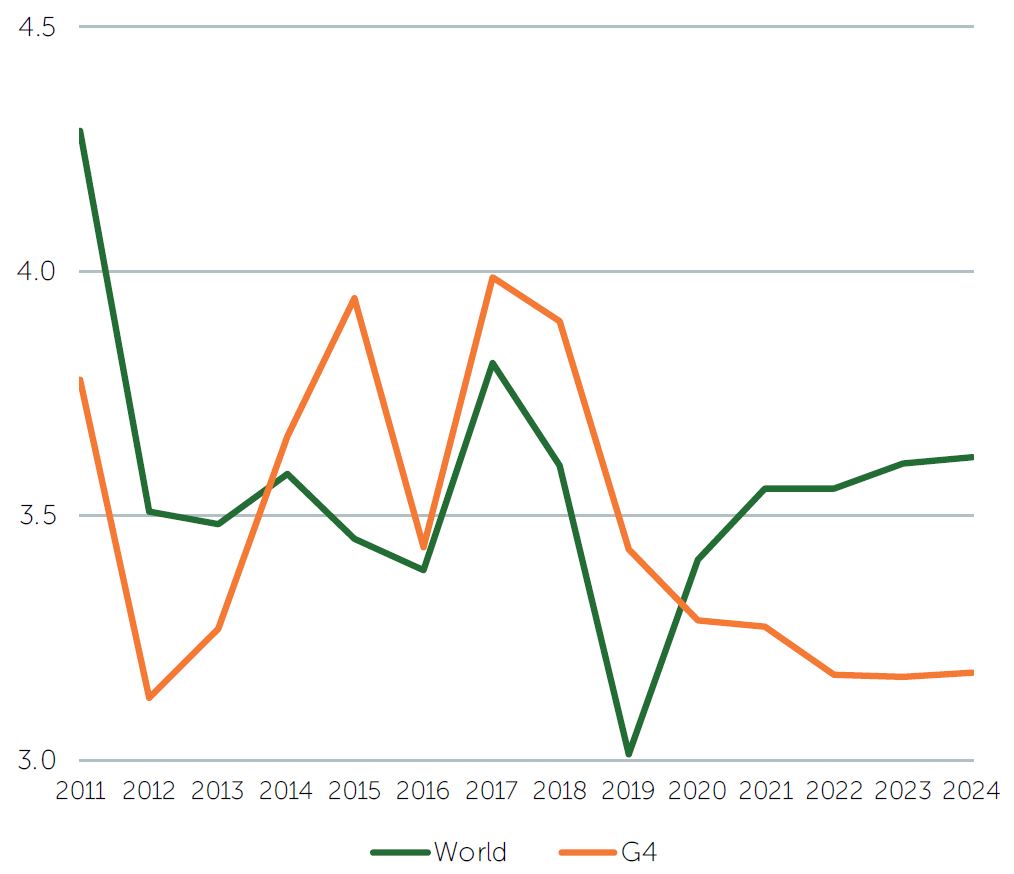 Note: G4 = China, euro area, Japan, US.
Source: IMF staff estimates, October 2019.
Developments early in the fourth quarter of 2019 hinted at a continued darkening of the mood among investors, as weak manufacturing reports and disappointing US jobs figures were among factors which led to sharp falls in global stock markets at the start of October, with the UK's FTSE 100 index of leading equities suffering its worst day in over three years.1 In the same month, the International Monetary Fund (IMF) downgraded its forecast for global growth to its lowest rate since the recession in 2009 that followed the global financial crisis. The organisation warned that the continuing trade tensions between the US and China, and the associated tariff increases in particular, were damaging business confidence and investment.2
However, as the quarter progressed, a series of events served to boost investor sentiment, which resulted in global stock markets clawing back earlier losses and delivering robust returns over the 12-month period. Indeed, US indices reached record highs in the final days of the year, with the S&P 500 index of US blue-chip stocks producing a return of almost 29% over 2019 as a whole, its best performance since 2013.3 Growing market confidence was further shown by a surge in merger and acquisition activity, with more than $70 billion in global takeovers agreed on just one day in November.4
Market participants were encouraged during the quarter by growing expectations that the US-China trade dispute – which has vexed investors for the best part of two years – was heading towards its denouement. A truce in October, which saw the US postpone planned tariff increases in exchange for limited concessions by the Chinese, was followed by confirmation in December that the two sides had reached a limited agreement to halt the trade war, with a 'phase one' deal likely to be signed in January.5 Meanwhile, in the UK, a breakthrough in Brexit talks, followed by a general election which resulted in a decisive victory for the governing Conservative Party, caused sterling and UK equities to rally.
More upbeat data releases during the final weeks of 2019 also helped to support global stock markets and relieve fears of an economic slowdown. In China, for example, November data showed that the manufacturing sector expanded at its fastest pace in three years. Nevertheless, business confidence fell to a five-month low.6

The US Federal Reserve (Fed) cut interest rates for the third time in 2019 in October, and also committed to purchase $60bn of Treasury bills each month in order to bolster reserves within the banking system. However, the seemingly rosier outlook – with Chair Jay Powell highlighting the progress made towards a US-China trade deal and lower risk of a 'no-deal' Brexit – led the central bank to signal that further easing was not on the agenda.7 However, in December it indicated a shift towards a more accommodative longer-term policy stance, with a median policy rate of 2.1% proposed for 2022 by Federal Open Market Committee (FOMC) members, compared to the previous prediction of 2.4%.8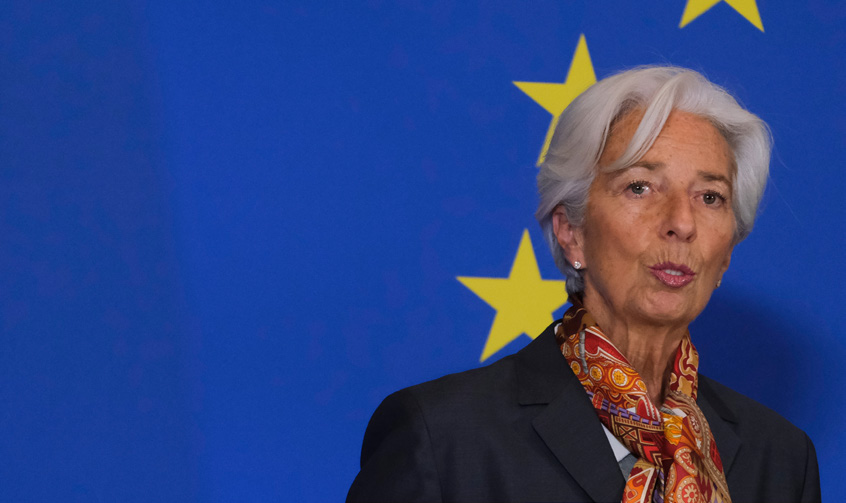 Elsewhere, new European Central Bank (ECB) President Christine Lagarde committed to maintain her predecessor's ultra-loose monetary policy, but, like her US counterparts, struck a more optimistic tone, claiming that the "downside risks on the horizon are less pronounced".9 Meanwhile, the Bank of Japan also kept its (negative) interest rate on hold, but hinted at its October meeting that it could cut interest rates further into negative territory,10 having consistently struggled to achieve its 2% inflation target.
In fixed income, developed-market government bonds struggled over the fourth quarter and ceded some of the gains made earlier in the year as yields rose. In the UK, the FTA Government All Stocks Index (gilts) delivered a negative return of -3.9% over the quarter (+6.9% over the 12-month period), while the JPM Global Government Bond Index (excluding the UK) returned -7.7% for the quarter (+1.5% over 12 months), as sterling's strength accentuated the negative return. Being beneficiaries of the 'risk-on' tone during the quarter, corporate bonds fared a little better, with the BofA ML Sterling Non-Gilts Index returning -0.7% (+9.5%).11
Equity markets
Total returns (£) rebased to 100 at 31.12.09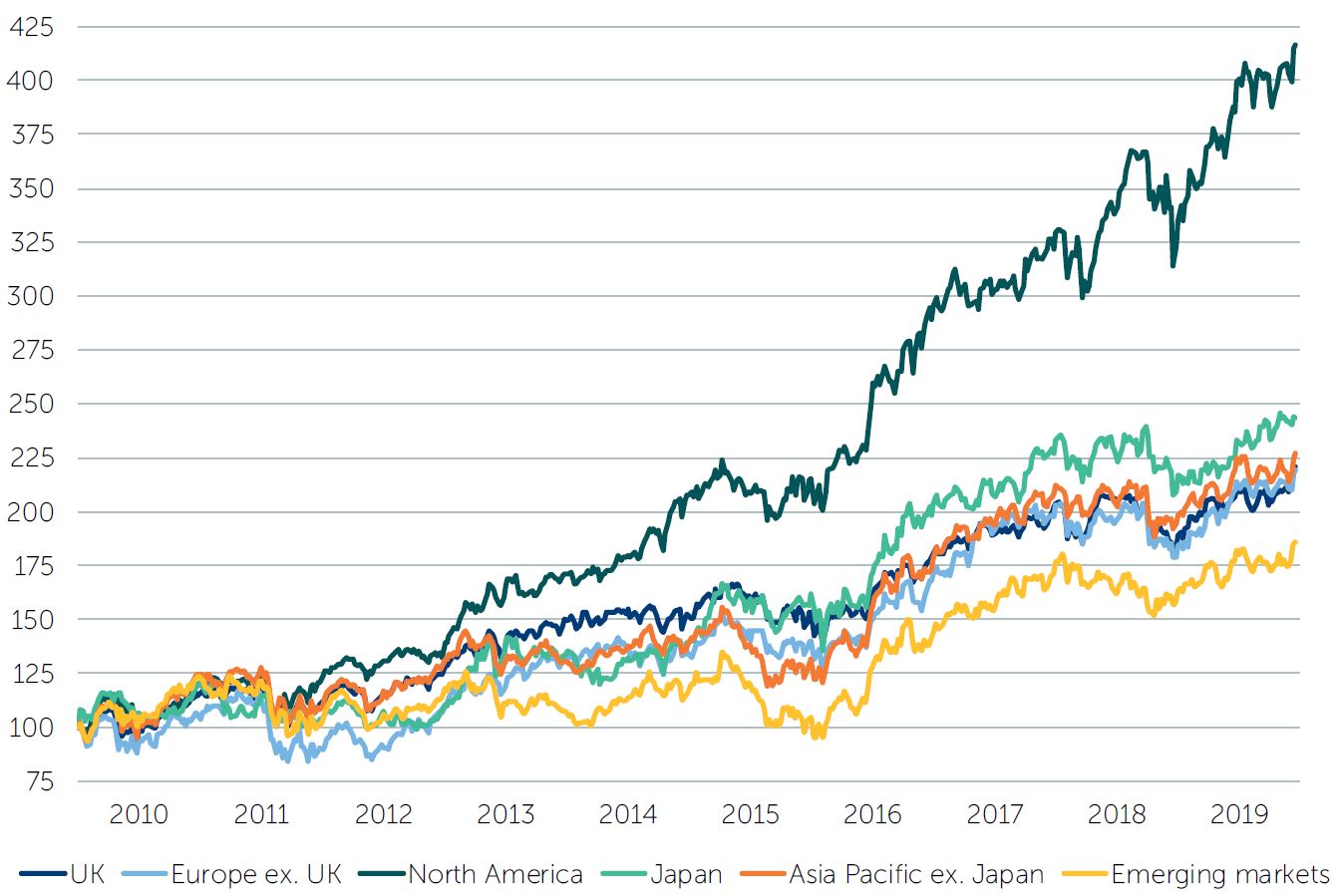 Note: all indices are FTSE series.
Source: Factset, January 2020.
The major equity markets all made strong gains in local-currency terms over the quarter, but the strength of sterling significantly reduced the extent of the returns for UK-based investors. UK equities returned +4.2% over the fourth quarter (+19.2% over the 12-month period), emerging markets delivered +4.0% (+15.9% over 12 months), and Asia-Pacific ex Japan equities produced a return of +1.6% (+14.9%). Meanwhile, North American equities returned +1.4% (+26.5% over the calendar year), Europe ex UK stocks returned +0.9% (+20.4%), while Japanese equities were marginally positive in sterling terms at +0.2% (+14.8% over 12 months).12
While gold continued its strong performance in US-dollar terms by rising +3.0% over the quarter (+18.3% over the calendar year), it delivered a negative return of -4.6% to UK-based investors (+13.8% over 12 months).13
December saw the death at the age of 92 of US economist Paul Volcker, a former Federal Reserve chair who was widely credited with having subdued the rampant levels of inflation that the US had experienced during the 1970s and early 1980s. With the current FOMC continuing to monitor "muted inflation pressures",14 inflation appears unlikely to present a near-term threat to the economy today.
In an article written three months before his death, Volcker criticised President Donald Trump's attempts to influence monetary policy: "Not since just after the second world war have we seen a president so openly seek to dictate policy to the Fed. That is a matter of great concern."15 While the Fed made three interest-rate cuts in 2019, it has since signalled its intention to keep its policy rate unchanged at 1.5-1.75% throughout 2020. Mr Trump believes that this represents a competitive disadvantage, and that rates should be cut to zero or even into negative territory as in Japan and Europe.
The unanimous decision of all FOMC members to keep rates on hold at the December meeting, and the removal of a reference to "uncertainties" which had appeared in the October outlook statement, suggests that the Fed may be increasingly confident about the backdrop. The labour market has certainly remained healthy, but while the services sector remains surprisingly resilient, other parts of the economy have been more mixed. An index of domestic manufacturing activity saw the fourth consecutive month of contraction in November, as new orders and exports remained weak.16 Trade tensions and weaker economic growth globally are likely to continue to weigh on business confidence.
In the UK, sterling surged over the fourth quarter as the likelihood of a no-deal Brexit diminished and, in December, Boris Johnson's Conservatives gained a decisive victory in the general election. With a majority government providing greater clarity, the UK stock market, whose valuations had remained subdued owing to Brexit uncertainty, also rallied as the year ended. However, significant headwinds remain for the UK economy. According to data released by the Office for National Statistics in early December, GDP was flat in the three months to October. While the services sector continued to see some growth, this was offset by a decline in manufacturing and construction activity.17
Sterling/US dollar rate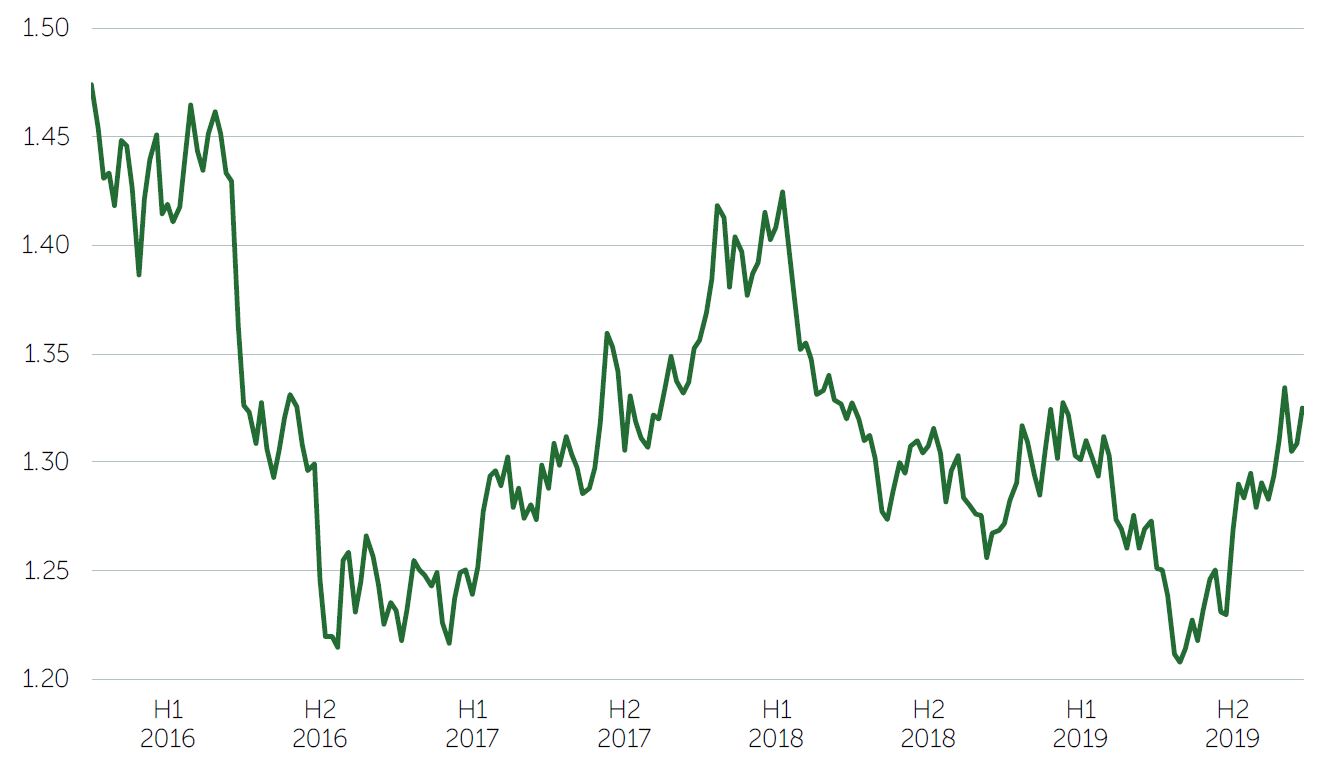 Source: Factset, January 2020.
At the December meeting of its Monetary Policy Committee, the Bank of England opted to keep interest rates on hold, predicting that the economy would experience a post-election boost, but maintaining the possibility that interest rates could move in either direction once the economic trajectory became clearer.18 With Brexit uncertainty – and market and currency volatility – likely to continue in 2020 as the UK attempts to define its future trading relationship with the European Union (EU), it is likely to fall to the Bank's new Governor Andrew Bailey, due to take office in March, to set a new direction for policy.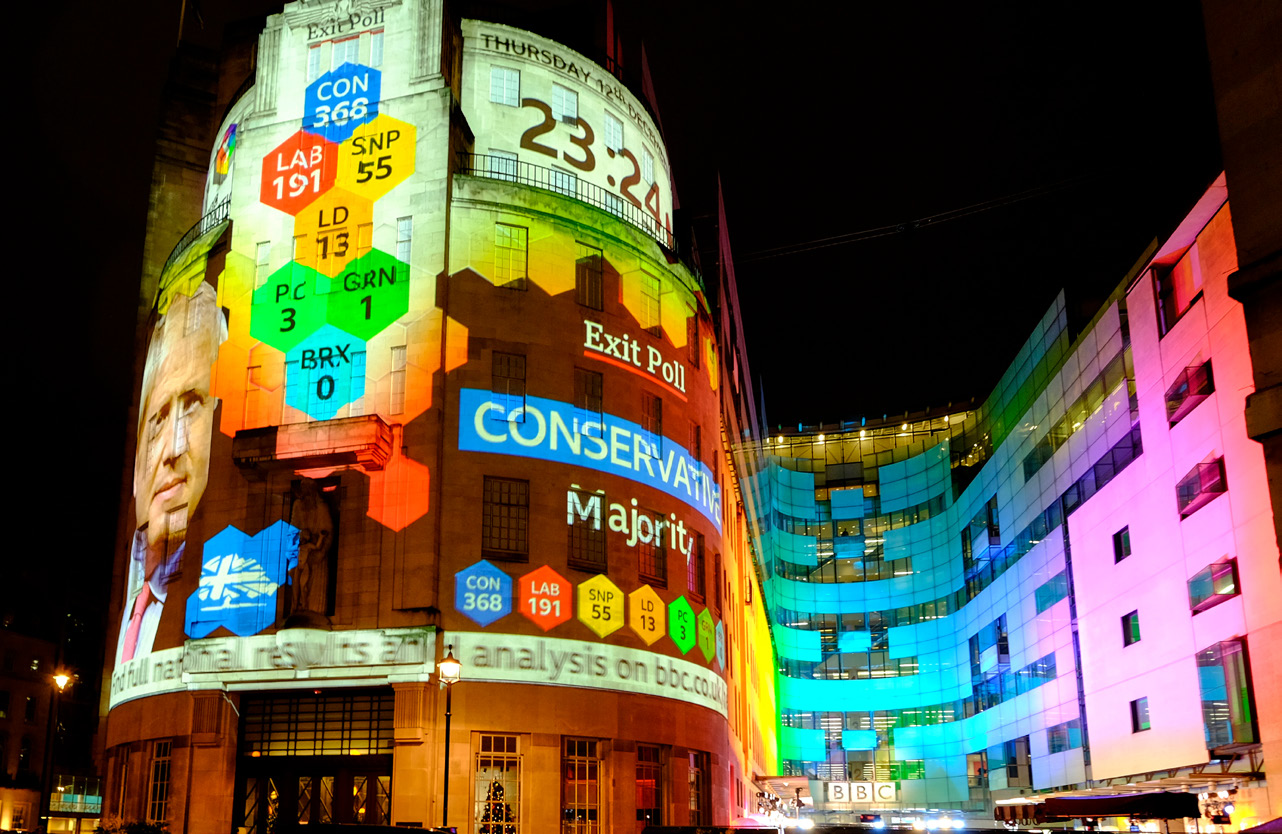 Manufacturing activity continued to deteriorate in Europe, with a key purchasing managers' index showing contraction for the 11th consecutive month in December.19 It was dragged down by Germany, although services activity has proved more resilient, even in France which has experienced significant social tensions in recent months. However, Germany did manage to avoid a recession in the third quarter, and a survey of investor sentiment towards the outlook for the German economy has risen to its highest level in almost two years,20 perhaps indicative of hopes that a trade deal will be reached between the US and China, and that a deeply disruptive Brexit will be avoided.
In her first rate-setting meeting as ECB president, Christine Lagarde was upbeat but indicated that interest rates would remain at record lows during 2020 as the economy remains relatively weak. Calling on governments to introduce policies that are more conducive to growth, she remarked that it "takes many to dance the economic ballet that delivers price stability and economic growth".21 While Angela Merkel's government is unlikely imminently to change the policy of fiscal restraint for which Germany has become so well known, it is worth noting the victory of a left-wing team – who favour the introduction of a large stimulus package – in a recent leadership election for Germany's Social Democratic party, a partner in the governing coalition.
The IMF advised the Bank of Japan (BoJ) in November to shake up monetary policy, moving its 0% cap on yields from 10-year bonds to a shorter maturity and reviewing its inflation target. Kristalina Georgieva, managing director of the IMF, commented that "both fiscal policy and monetary policy are stretched – leaving limited room to respond to shocks". She added that low interest rates, and the resulting hunt for yield, have resulted in increased risk-taking in the banking system.22

Japan's debt still exceeds 200% of GDP, and, despite a reduction in new government bond issuance, a record budget approved by the government in December – incorporating rising social-security costs – has done little to assuage concerns that the government is doing too little to control spending.23 The economy has also recently had to contend with a sales-tax increase and a fall in exports, as well as the impact of Typhoon Hagibis – one of the largest tropical cyclones ever recorded – which struck mainland Japan in October. In response to these challenges, the government announced a large fiscal stimulus package in December to boost growth.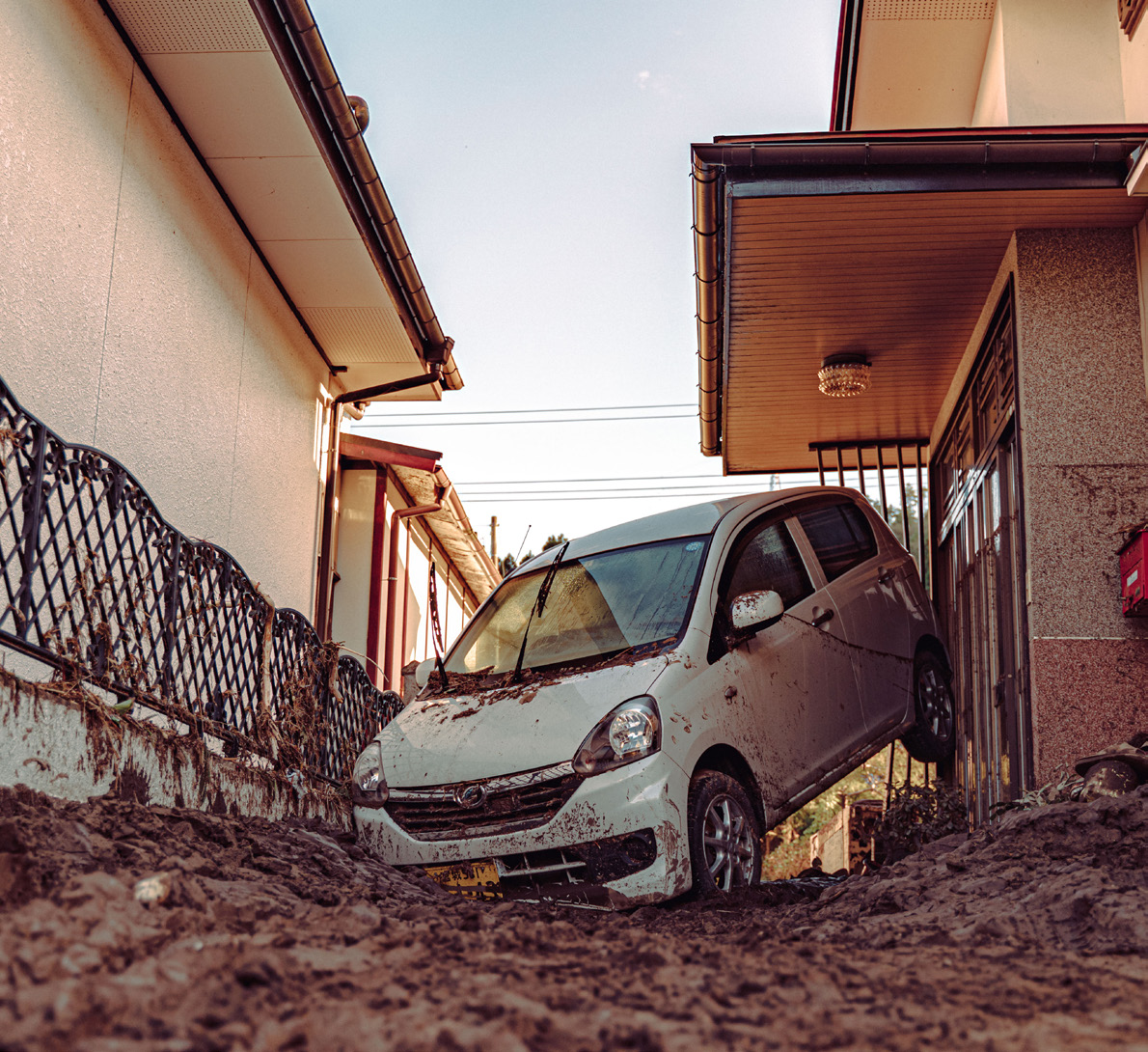 When China celebrates its new year on 25 January, it will be ushering in the year of the rat, traditionally a symbol of wealth and surplus. While China's growth rate would be envied by any developed-market economy, the 6% year-on-year GDP figure recorded for the third quarter of 2019 represented the slowest pace of growth in around 30 years.24 Recent PMI data may have indicated a pickup in manufacturing activity, and it is possible that the steady drip feed of stimulus that began in July 2018 with the first in a series of cuts to banks' reserve requirement ratios will enable the economy to bottom out; however, a number of structural constraints make a cyclical upswing similar to that of 2016-17 far less likely.
Although trade tensions with the US have clearly affected China's export-oriented industries, there is evidence that domestic demand has also been weakening, with a continued slowdown in nominal income growth. While there is much talk of stimulus from the People's Bank of China (PBOC), its balance sheet tells a different story, with deposits from commercial banks showing a declining trend since peaking at the end of 2017 – which in effect amounts to a tightening of monetary conditions. There also appears to be a reluctance from the PBOC to engage in policy similar to that undertaken by many of its Western counterparts, with Governor Yi Gang stating in December: "The world's economic downturn will likely stay for a long time. We should stay focused and targeted, while not competitively lowering interest rates to zero or engaging in quantitative easing."25
China manufacturing purchasing managers' index

Source: Bloomberg, January 2020.
Two-headed Janus, source of the silent-gliding year, who alone of the gods see your own back.

Ovid, Fasti, book 1 (8 AD),
translated by Anthony Boyle

1 www.ft.com/content/3c82d9b0-e527-11e9-9743-db5a370481bc
2 www.imf.org/en/Publications/WEO/Issues/2019/10/01/world-economic-outlook- october-2019
3 www.ft.com/content/42911fb0-2b22-11ea-bc77-65e4aa615551
4 www.ft.com/content/7d48b156-0faf-11ea-a7e6-62bf4f9e548a
5 www.ft.com/content/f82cdc4c-1db7-11ea-9186-7348c2f183af
6 www.ft.com/content/6b4903e8-14aa-11ea-9ee4-11f260415385
7 www.ft.com/content/f80253b8-fb35-11e9-98fd-4d6c20050229
8 www.federalreserve.gov/newsevents/pressreleases/monetary20191211b.htm
9 www.ft.com/content/341ba4cc-1cd2-11ea-9186-7348c2f183af
10 www.boj.or.jp/en/announcements/release_2019/k191031a.pdf
11 Bond market returns sourced from FactSet, 01.01.20
12 Equity market returns sourced from FactSet, 01.01.20 (All sterling total returns, FTSE World Index)
13 Gold bullion returns sourced from FactSet, 01.01.20
14 www.federalreserve.gov/newsevents/pressreleases/monetary20191211a.htm
15 www.ft.com/content/2389d7ec-1b3c-11ea-97df-cc63de1d73f4
16 www.ft.com/content/8dae7150-1515-11ea-8d73-6303645ac406
17 www.ft.com/content/d04e17c8-1b31-11ea-9186-7348c2f183af
18 www.bankofengland.co.uk/monetary-policy-summary-and-minutes/2019/december-2019
19 www.ft.com/content/bd1bf040-1fe0-11ea-92da-f0c92e957a96
20 www.zew.de/en/presse/pressearchiv/erneuter-anstieg-der-erwartungen/?cHash=2632c51a3a8d8e9bc3e26898e5e2cafa
21 www.ft.com/content/341ba4cc-1cd2-11ea-9186-7348c2f183af
22 www.ft.com/content/b6b37e5a-0f5d-11ea-a7e6-62bf4f9e548a
23 www.bloomberg.com/news/articles/2019-12-20/japan-approves-record-budget-amid-rising-social-security-costs
24 www.ft.com/content/396e67be-f0b5-11e9-ad1e-4367d8281195
25 www.bloomberg.com/news/articles/2019-12-01/pboc-ready-with-prudent-policy-for-long-global-downturn-yi-says
26 www.ft.com/content/7fdedb5e-152f-11ea-9ee4-11f260415385
All data is sourced from FactSet unless otherwise stated. All references to dollars are US dollars unless otherwise stated.
Issued by Newton Investment Management Limited, The Bank of New York Mellon Centre, 160 Queen Victoria Street, London, EC4V 4LA. Registered in England No. 01371973. Newton Investment Management is authorised and regulated by the Financial Conduct Authority, 12 Endeavour Square, London, E20 1JN and is a subsidiary of The Bank of New York Mellon Corporation. Newton Investment Management Limited is registered with the SEC as an investment adviser under the Investment Advisers Act of 1940. Newton's investment business is described in Form ADV, Part 1 and 2, which can be obtained from the SEC.gov website or obtained upon request. The opinions expressed in this document are those of Newton and should not be construed as investment advice. Any reference to a specific security, country or sector should not be construed as a recommendation to buy or sell this security, country or sector. To the extent that copyright subsists in any picture used in this document, Newton recognises the copyright therein.