In previous blog posts, we discussed the innovation taking place in combustible cigarettes, as well as the development of next-generation nicotine products. In this post, we'd like to explore a new area which still seems some way from realisation, but could offer very interesting opportunities for companies willing to grasp the nettle and venture into new territory.
Marijuana.
Although this may be surprising to some, we believe federal legalisation of cannabis for recreational use in the United States may not be as far off – or maybe even 'far out' – as one might think; just a couple of years perhaps. Here are the key facts: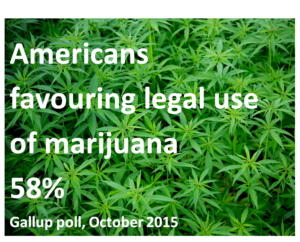 So far, marijuana has been made legal in 25 states for medical use, and in four states for recreational use. It has been decriminalised in 16 others. This November's presidential election will also allow voters in states such as California, Nevada and Maine to have their say on legalising the drug for recreational use.

Support is certainly building among the US electorate: in 2015, a Gallup poll indicated that 58% of adults supported legalisation (up from just 23% in 1985), with an overwhelming 71% of 18-34 year olds in favour of legalising the drug.[1] 

While marijuana is currently considered to be a 'Class 1 Controlled Substance', which puts it in the same category as heroin and one above cocaine (which is classified as Class 2), the US Drug Enforcement Agency is currently re-evaluating this designation for the first time in a decade. 

Most US states already have a large informal marijuana market, with around 15% of the population of the majority of US states estimated to consume the drug.[2] Usage is much higher among the 18-25 cohort (c.20% – roughly 1 in 5 young adults)[3], for which it is as acceptable a social lubricant as alcohol. It is also worth remembering that it is hard for under-21s to buy alcohol in the US, and that conventional tobacco smoking has also been effectively discouraged among this age group.

It's not just a teenage kick either. When cannabis is legalised, usage increases significantly among the over 25s. In large states where cannabis has been legal for several years, such as Colorado and Washington, sales are already estimated to be as high as US$1bn per annum.[4] This indicates that, over time, the whole market could grow to be quite sizeable, potentially US$50bn a year, which is around a quarter of US annual sales of alcohol. If taxed at a similar rate to tobacco, it could provide revenues of US$20bn a year to the government, far above the US$14bn raised from federal excise taxes on tobacco.[5] There are of course all kinds of assumptions and caveats behind these numbers, but we see enough potential growth to start taking it seriously.
We think that the tobacco industry is likely to be the most interested in marijuana as a source of future growth, with many companies already giving serious consideration to the crossover potential with vaping. But until it is legalised at a federal level, nothing can be done. Nevertheless, support among the general population is growing, and like gay marriage, we think it may be a case of overwhelming public backing sweeping away previous social norms.
As for other international markets, moves are afoot to legalise marijuana for medical or recreational use in a variety of countries, including Canada, Germany, Israel, Mexico and Italy.
Watch this space.
[1] Gallup, October 2015
[2] National Survey on Drug Use and Health, 2014
[3] National Survey on Drug Use and Health, 2014
[4] Colorado Department of Revenue, Washington State Liquor & Cannabis Board, and Cowen and Company, 2016
[5] Cowen and Company, 2016
Any reference to a specific security, country or sector should not be construed as a recommendation to buy or sell this security, country or sector. Please note that portfolio holdings and positioning are subject to change without notice.