While the UK's vote in favour of Brexit has increased near-term uncertainty, it remains too early to determine whether it will have any meaningful impact on the pensions industry.
The surprise result, combined with the unpredictability of financial markets, makes forecasting difficult, but we expect long-term pension savings to remain an important component of individuals' investments.
From April 2018, auto-enrolment contributions are set to rise from 2% to 5%, and again to 8% in April 2019. While this will go some way towards closing the gap between defined benefit (DB) and defined contribution (DC) contribution rates, there is a delicate balancing act to be achieved in terms of increasing contributions while avoiding a spike in opt-out rates.
UK pensions have been buffeted by many changes in recent years, so the government's shift in focus to Brexit-related issues might just bring some welcome respite and enable reforms such as auto-enrolment to be fully bedded down without further legislative tinkering.
Redefining post-retirement?
The absence of legislative 'noise' should also allow schemes to determine whether their default funds reflect the right balance of growth and capital preservation, and how far they wish to be involved in providing post-retirement strategies for their members.
This last point is an important one for pension funds. The indications are that appetite among consultants and schemes for greater involvement in post-retirement strategies is gathering pace.
Some 28% of the 300 schemes polled in Aon Hewitt's 2015 DC Survey are currently developing a drawdown solution, although the number increases significantly for larger schemes. Just 37% of larger schemes have ruled out a drawdown option (see chart below).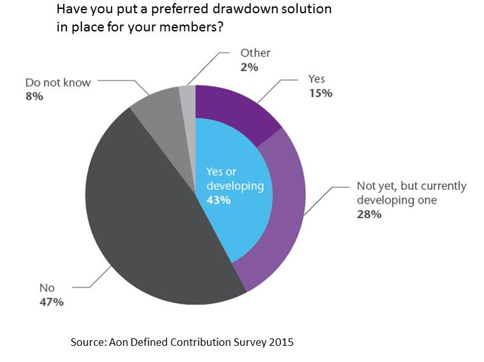 Our contention is that, over time, the majority of schemes and their advisers will wish to direct members to a well-designed post-retirement 'default' strategy.
Platforms have been slow to embrace this opportunity to date and it is striking that it is the master trusts, a number of which have a large member share, which appear to be bolder in voicing an appetite for extending and redefining their role.
Our wish as active asset managers deploying fundamental analysis is that a renewed focus on default fund design both pre and post-retirement should lead schemes to explore whether their strategies are serving them well in the current volatile environment.
The predominance of passive strategies in DC, while understandable in the context of a regulatory charge cap, may not be the answer as pot sizes grow and the effects of market gyrations are felt more keenly by DC members. Strategies which invest in a subset of companies with attractive characteristics such as robust balance sheets and healthy cash flows should, we believe, come to the fore.
A broader spectrum of opportunities
Moreover, traditional 'safe-haven' real assets such as gold, as well as other investments such as renewables and infrastructure, where cash flows are not directly linked to the economic cycle, renew their appeal.
With bond yields remaining close to historic lows, considering assets with different return profiles can help ensure that a multi-asset portfolio is able to draw on a fuller spectrum of opportunities.
As always in times of uncertainty, a patient, thoughtful approach should offer DC investors a better chance to generate the steady return/low-volatility profile required at the strategy level, as they approach and move into retirement.
Any reference to a specific security, country or sector should not be construed as a recommendation to buy or sell this security, country or sector. Please note that holdings and positioning are subject to change without notice.