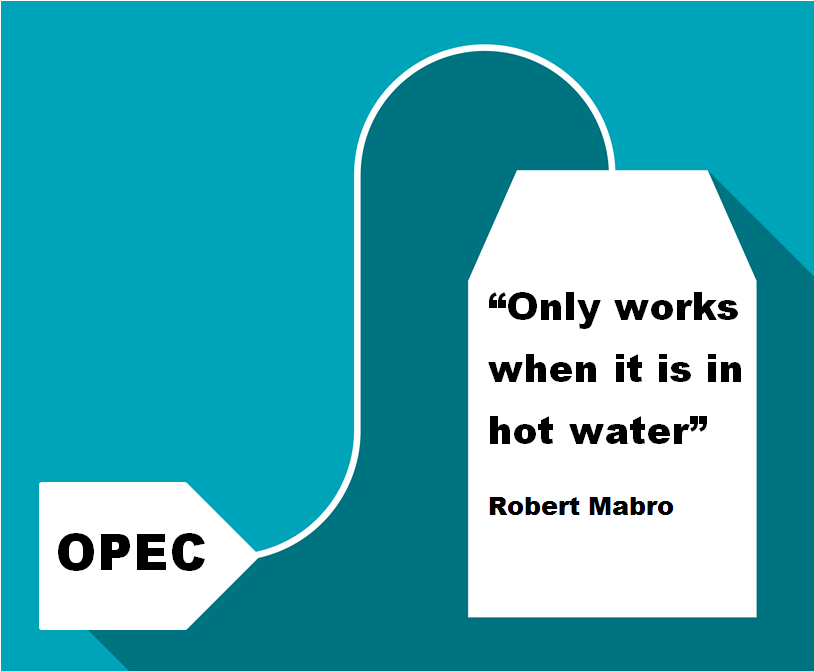 A coincidence of events reminds us of OPEC's chequered history of intervention in the oil markets. The sad death of Robert Mabro, founder of the Oxford Institute for Energy Studies, occurred just the day before it was reported that OPEC (Organization for Petroleum Exporting Countries) would hold an informal meeting on the sidelines of the International Energy Forum meeting at the end of September.
Arguably, Mabro spoke his finest words when he compared OPEC to a teabag, "It only works when it is in hot water", a quote we have cited in past presentations on the oil sector. Looking at the history of OPEC intervention lends weight to Mabro's pithy observation; co-ordinated and sustained production cuts have been a rarity.
Slippery dealings
The success of multiple output cuts during the onset of the global financial crisis in Q4 2008 undoubtedly helped to pull the oil price out of its liquidity-induced funk. Previously, however, OPEC's failure to react strongly enough to crashing demand in the early 1980s contributed to a 20-year bear market in oil. In 1985, Saudi Arabia finally lost patience with its fellow OPEC members cheating on quota agreements, and took advantage of its enormous spare capacity to flood the market in an effort to regain its 'fair' share.
Other calls to action have typically resulted in similar dishonesty. Take, for example, the events of 1998, when members clearly produced well in excess of the lowered production quotas which had been agreed in response to the drop in oil demand which followed the Asian financial crisis. Somewhat fortuitously for OPEC, the preceding 18 years of pain had already instilled more than enough discipline in non-OPEC producers who proved more amenable to capping production levels. So, as the Asian economies recovered, led by China's industrial acceleration, global oil supply failed to keep pace and prices accelerated during the 2000s.
Fast forward to more recent times, and OPEC was unwilling to act at its meeting in November 2014 because it did not wish to cede market share to the very producers it believed had created the hefty glut in supply.
Shocked by shale
For all the opprobrium traditionally cast the way of Saudi Arabia as OPEC's protagonist, the last 20 months have vindicated the country's decision as the US shale industry has led the way in cutting costs and raising productivity. An immature industry and efficient infrastructure, as well as an entrepreneurial and iterative approach (not to mention easily accessible credit) all contributed to shale's increasing competitiveness. While production in the continental states of the US (excluding Alaska) of 8 million barrels per day (MMbpd) is running nearly 1MMbpd lower year-on-year, that output is being achieved using only half the number of rigs compared to a year ago. Leading operators are openly guiding to higher production from the same level of capital investment as we head towards 2017.
Six months after US sanctions on Iran's oil industry were lifted, the country has raised its output by 800,000 barrels per day to a 5-year high of 3.6MMbpd. This has contributed to OPEC maintaining record output of over 32MMbpd since mid-2015, despite unrest and economic instability in Venezuela and Nigeria.
Vacillating oil prices, increasing concerns around the fragility of China's oil demand, and the well-flagged global inventory glut suggest that OPEC is in warm water as it approaches its meeting in September, but few individual members will find it hot enough to push for coordinated output cuts, given US shale producers' ability to react rapidly to persuasive pricing signals.
Any reference to a specific security, country or sector should not be construed as a recommendation to buy or sell this security, country or sector.