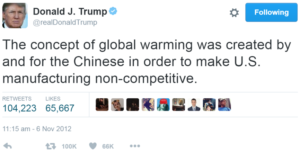 As a candidate who has claimed climate change is nothing more than a conspiracy invented by China, it is unsurprising that Donald Trump's presidential victory has led to debate about the future of growth for the renewable-energy sector.
While investment in renewables certainly has risks, we believe a zero-growth scenario for the sector looks unlikely given the momentum of support for clean energy.
In the US, renewable energy, especially wind, is very competitive with other forms of power generation, even without federal tax subsidies. With federal tax subsidies, it is the generation method of choice in most regions.
Take the example of Texas, where the body which oversees the state's power market has announced it expects to see wind power capacity grow by 65% over the next four years. While it receives federal tax credit, none of this capacity is backed by local renewable-energy targets, having already met the 2025 state target for wind capacity in 2009. In other words, wind is being built because it is very competitive versus existing conventional power-generation capacity. To put this in context, Texas currently has roughly a third more wind-generation capacity than the UK.
Having been extended in 2015 by a Republican congress, federal tax subsidies are now in place until 2020 (effectively 2022, as there is considerable leeway over what counts as starting construction).
State-level policies driving investment
While Trump may be able to reverse the Federal Clean Power Plan, implemented in 2015 by Obama to support the growing trend towards generating clean energy, individual states (both Democrat and Republican) are pressing on with their own renewable policies. Regardless of who occupies the White House, it is likely most pro-renewable states will continue to pursue renewable growth plans, and it is state-level policies that drive investment.
The state of Michigan (under the control of a Republican governor and congress) demonstrated this just last week when it passed legislation to modernise its energy-generation infrastructure, improve regulation of the sector and set new renewable-energy targets of 15% of total capacity by 2021, having met its 10% target in 2015.
Beyond the US, the momentum behind renewables should not be underestimated. In late October 2016, the International Energy Agency announced that renewables had surpassed coal last year to become the largest source of installed power capacity globally – with about half a million solar panels installed every day around the world last year.
China (where two wind turbines were installed every hour in 2015!) is seen as a key growth market, having accounted for 40% of global renewable power growth in 2015 – and that figure still represents only half of the country's electricity demand increase.[1]
Closer to home, while Europe has been a big driver of the UK's environmental legislation in the past, in recent years the UK has gone further. In June 2016, the UK government announced it would take a tougher approach than EU regulation, adopting its fifth carbon budget; it targets a 57% reduction in carbon emissions (from 1990 levels) by 2030.
So, with solid support at a US state level and considerable international backing, we believe fears of zero growth for the renewables sector may just be a load of hot air.
[1] https://www.iea.org/newsroom/news/2016/october/iea-raises-its-five-year-renewable-growth-forecast-as-2015-marks-record-year.html