When Donald Trump made his debut address to US Congress last week, those looking for hard details on his proposed plan to rebuild American infrastructure and reform the tax code were left disappointed.
There is a view in financial markets that unless the new administration begins to make progress with supposed pro-growth policies, investors will begin to lose patience. However, there is more to the strong rally in markets than simply the widely touted hope that Trump can unshackle the economy and propel US growth to 4% per annum. Rather, since the middle of last year, global macroeconomic data has steadily improved, and leading indicators continue to rise, underpinning the so-called 'reflation trade'.
In the US, economic data has been consistently beating expectations of late. The chart below shows that over recent months positive economic surprises have almost wholly been the result of responses to business and consumer surveys beating forecasts rather than anything more concrete. 'Hard' economic data – reflecting what has actually happened in the economy – has broadly been in line with expectations.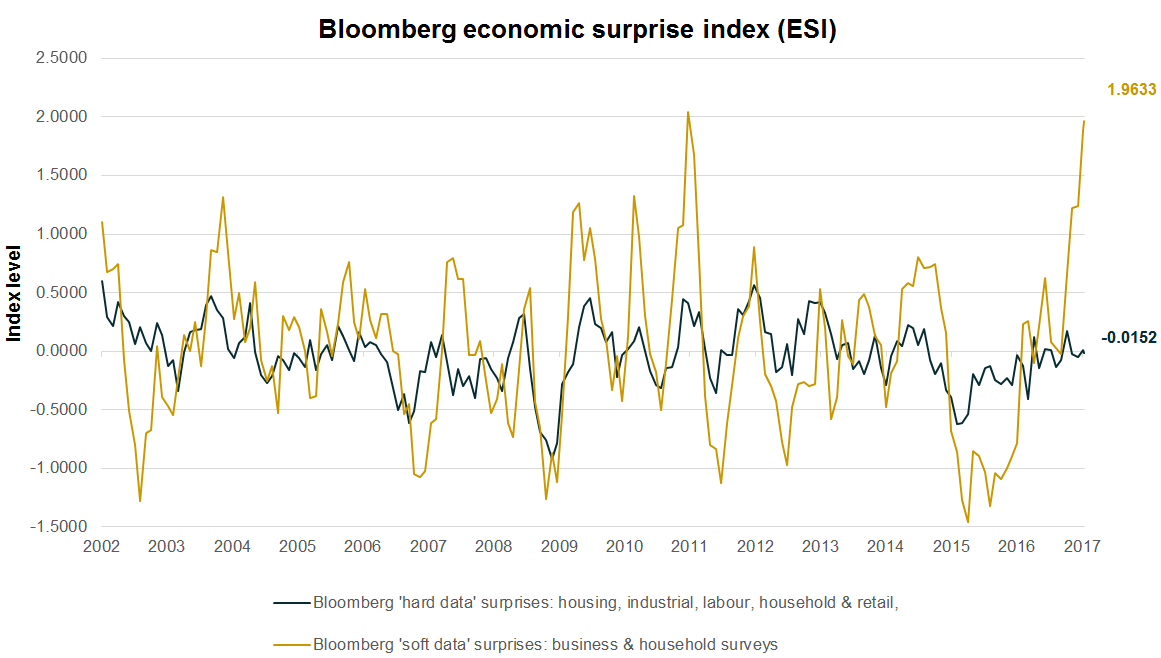 Source: Bloomberg 06/03/17
The much-watched Institute for Supply Management (ISM) manufacturing index hit a 30-month high (57.7) in February, with the New Orders sub-index registering a five-point month-on-month increase to 65 (for both, a figure above 50 indicates expansion).
There was further optimistic sentiment in the shape of ISM non-manufacturing data, which was up to 57.6, while global manufacturing has shown decent momentum of late.
This is not to say that the optimism reflected in responses to business and consumer surveys will not lead to an increase in the amount of dollars spent. However, we believe that the level of optimism alone gives reason to be cautious given the strong and sustained nature of recent market performance and some signs that the consumer – which accounts for two-thirds of the US economy – is coming under pressure.
Consumers under pressure
Real disposable personal income growth has steadily declined as inflation has outstripped nominal income growth, and, in real terms, average weekly wages were down 0.6% year on year (YOY) for January – the weakest since October 2012, having run as high as +2.9% YOY at the start of 2015. This decline has begun to weigh on consumer spending – up just 0.2% month on month (MOM) in January, but down in real terms by -0.3% MOM.
The recent increase in inflation is largely the result of rising YOY oil prices as supply has been taken out of the market. This type of inflation is a tax on consumption rather than a reflection of robust underlying demand, which is why we remain cautious for the time being.
Any reference to a specific security, country or sector should not be construed as a recommendation to buy or sell investments in those countries or sectors.