We have for some time now expressed a view that cautious portfolio positioning is warranted; we feel that consensus expectations for economic growth are too optimistic when viewed through the lens of the world's still-growing debt mountain and rapidly ageing population, as highlighted by our 'debt burden' and 'population dynamics' themes. Added to this, we believe we are in a weak pricing backdrop, in which companies will struggle to maintain pricing of their output in a world of 'abundance' and advancing disruptive technology.
Yet only weeks after the market turmoil induced by the UK's vote to leave the European Union in June, the US equity market, as measured by the S&P 500 stock index has hit an all-new high, which in valuation terms has not been seen since 2002. The reason of course has been a coordinated move by central banks to throw even more support at financial markets.
Often, when we explain our views on the efficacy of this extraordinary policymaking to our clients and prospects, we like to use the analogy of a car journey…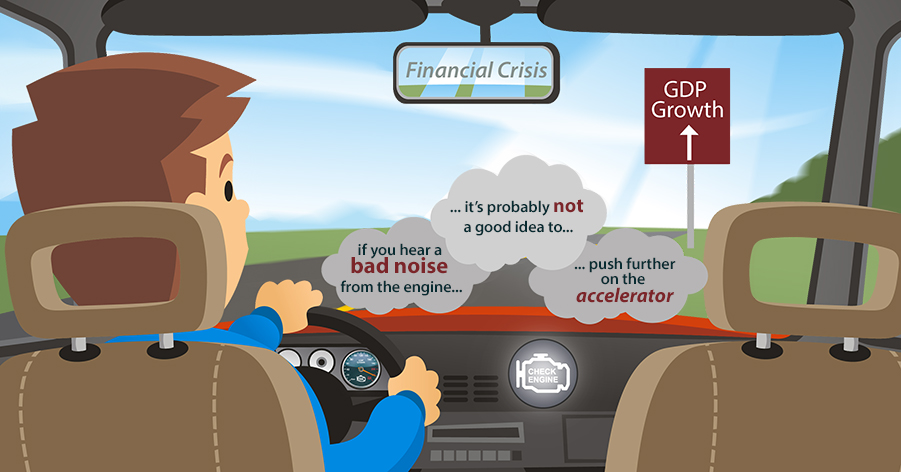 To us, it seems policymakers are solely focused on the speed of travel, i.e. the rate of GDP growth, without paying due attention to the state of repair of the machine – the health of the economy.
When you're driving and you hear a bad noise coming from the engine of the car, or a hole appears in the floor, the correct response probably isn't to push further on the accelerator.
However, the response of central banks throughout the post-financial crisis period has been to keep their feet firmly on the accelerator, ignoring the structural challenges that are causing the machine to falter.
I've discussed this issue further, as well as how the Real Return team is navigating this fragile backdrop, in this month's NewsReal podcast. You can listen to it here.
Any reference to a specific security, country or sector should not be construed as a recommendation to buy or sell this security, country or sector. Please note that holdings and positioning are subject to change without notice.