Over the last few years, charities have been on a rollercoaster ride with the investment returns from their portfolios. Meanwhile, more charities appear to be making withdrawals at a higher rate than they believe to be sustainable.
Here are some of the key findings from our latest survey of leaders and decision makers in the UK charity sector, which covers diverse aspects of the management of charitable portfolios:
Charities see environmental, social and governance (ESG) factors as increasingly important when considering the management of their portfolios, and believe that engaging with companies can positively influence their behaviours
71% of charities in the latest survey (compared with 62% in the 2017 survey) stated that ESG factors were important to them when considering the management of their investment portfolio. The vast majority of charities also believe that engaging with companies on ESG issues has some positive impact on corporate behaviour.
Importance of considering ESG investment factors in the management of investment portfolios (by type of charity)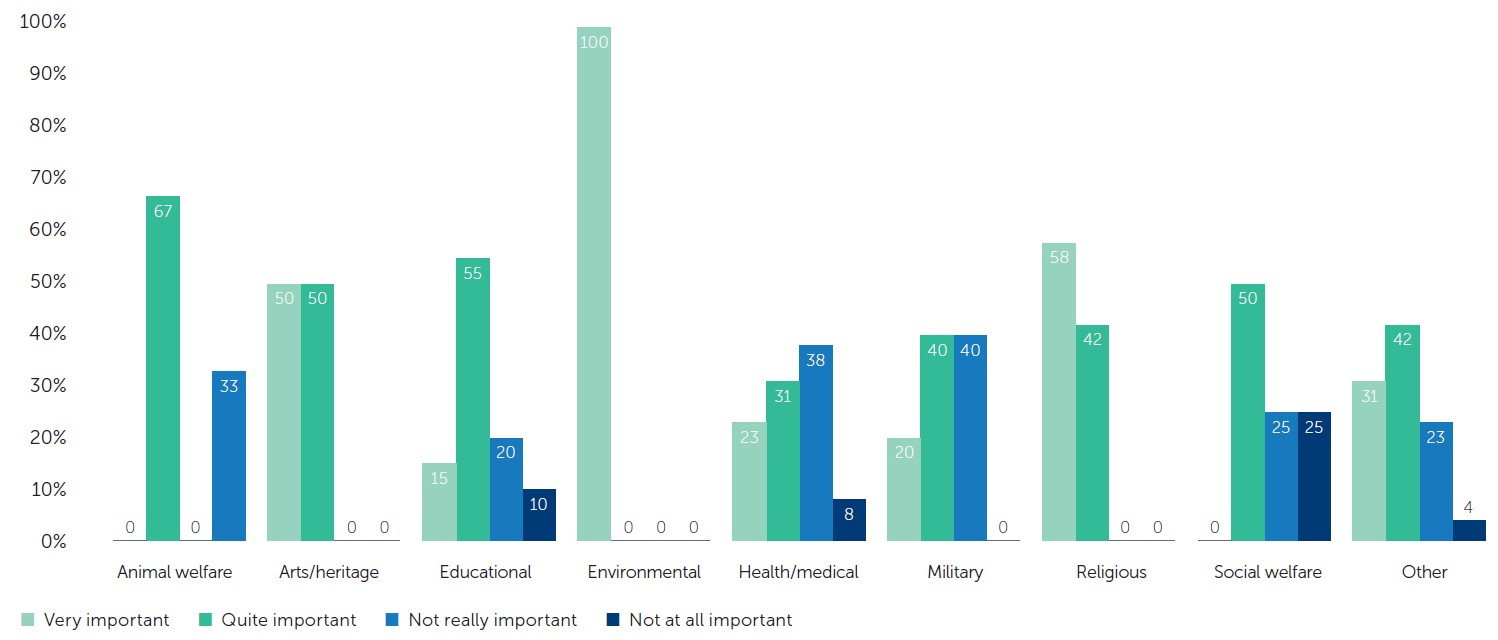 No. of respondents: 2014: 55; 2015: 93; 2016: 77; 2017: 93; 2018: 97
Fossil fuels remain one of the six major ethical exclusions, and charities are leading the debate on how to develop a fossil-fuel ethical policy
In 2016, the vast majority (92%) of charities with a fossil-fuel exclusion policy had adopted the Church of England's policy of excluding just coal, tar sands and shale oil and gas from their portfolios. In the latest survey this choice has fallen to 50%, with 35% of respondents having much wider exclusions.
Charities' investment returns were significantly down on 2017's figures, and outlooks are also less positive than in last year's survey
Charities reported an average total return of 4.2% over the 12 months to 31 March 2018, significantly lower than the 10.9% obtained during the prior 12-month period. Looking ahead, 50% of charities (compared to 38% in 2017) expect returns of 6% or less over the longer term.
More charities appear to be making withdrawals at a higher rate than they believe to be sustainable
In 2018, there has been a jump in the proportion of charities taking a withdrawal of 5% or more to spend on their charitable activities. This has pushed the average withdrawal rate up from around 3% in 2017 to 4% in 2018. As the survey responses suggest a sustainable withdrawal rate is 3.4%, it appears many charities, faced with a period of lacklustre investment returns, have dipped into their investment assets to support their work.
While the UK charity sector leads the way on gender diversity at trustee board level, the survey results suggest diversity of ethnicity and age is less evident
Women make up 37% of charity trustee board members, which compares favourably with the boards of FTSE 100 companies. However, just 4% of trustee board members are black and minority ethnic, while only 7% are under the age of 40.
The anticipated impacts of Brexit on charitable portfolios are increasingly negative, while some charities also fear it could hinder their charitable work
Only 26% of charities believe that Brexit will not affect their portfolios, and over 80% of those charities that believe Brexit will have an impact think it will negatively affect both capital and income.
Likely impact of the UK's vote to leave the EU on charity investment portfolios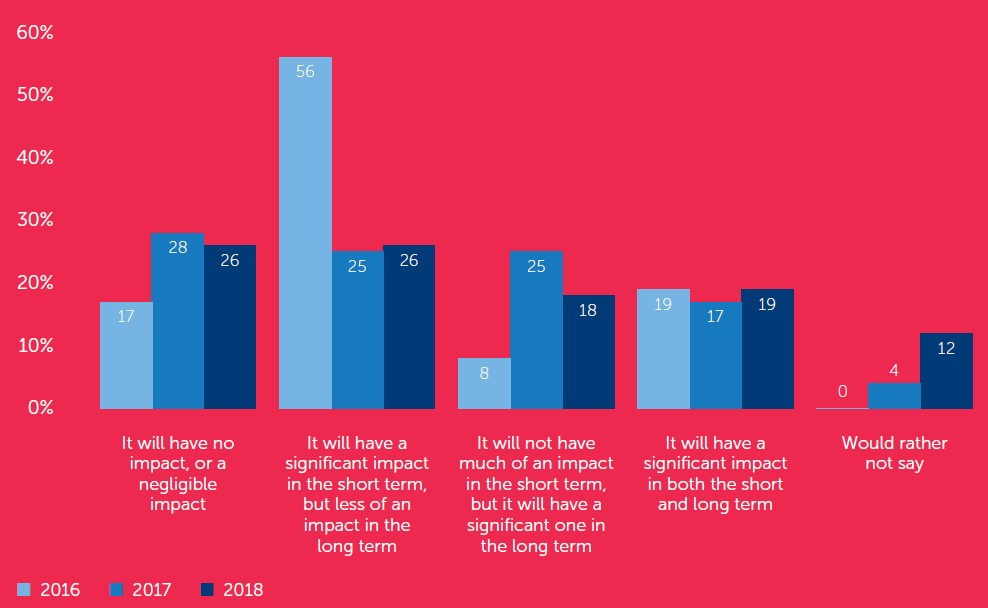 No. of respondents: 2016: 60; 2017: 92; 2018: 97
More about the survey
A total of 97 charities, with investment assets of £11.4 billion, completed our 2018 survey, which was conducted between late April and early July, with a record date for all data of 31 March 2018. For many of the questions in the survey, we now have five years of answers, so can identify evolving trends in charity thinking on particular issues, as well as changes of direction over the last year.
This is a financial promotion. Any reference to a specific security, country or sector should not be construed as a recommendation to buy or sell investments in those countries or sectors. Please note that holdings and positioning are subject to change without notice.