At our 'mind the gaps' theme group at Newton, I recently presented to my fellow investment team members on our current thinking around this theme. I focused in particular on one aspect which has become increasingly prevalent in today's headlines: the rise of political divergence.
We believe that political differences (both within and between countries) has been thrown into sharper relief as a result of increasing wealth inequality and growing popular discontent, as large swathes of the population feel they have been left behind by globalisation.
In Europe, in particular, it is clear the political landscape is evolving, as I have discussed previously. Deep-seated voter dissatisfaction with economic and political governance is intensifying, and, for investors, political risk abounds.
As debate surrounding the exact terms of the UK's exit from the European Union rages on, Europe faces a number of key referendums and elections over the coming months, which are likely to prove crucial for the continuing existence of the union.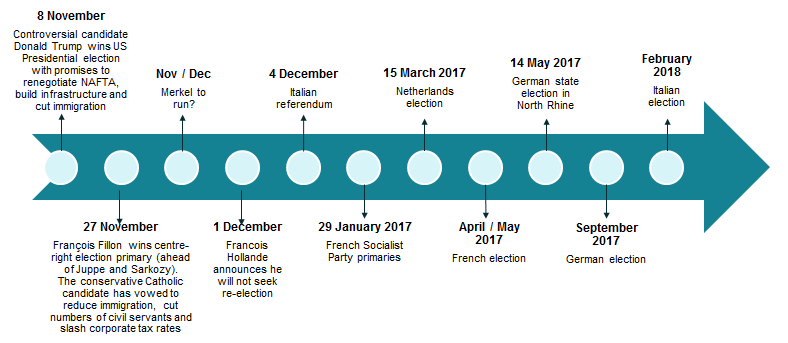 The most pressing of these is the Italian referendum on constitutional reform, set for this Sunday. With the polls currently set at 39% against reform and 37% in favour, it looks like the pro-EU prime minister, Matteo Renzi, is set to lose the vote. He has previously said he would resign if this were to materialise (although he has since backtracked on this promise, – and any subsequent election under current electoral law would have a material prospect of a win for the anti-establishment Five Star Movement, which has pledged to call another referendum if it gets into office, this time on ditching the euro.
Overall, a landslide victory for those who are against the reforms might lead to an immediate 'risk-off' move by global investors, but even a 'yes' vote doesn't resolve the problems of Italy's political establishment. Italy's banks remain burdened with a mountain of bad loans, while a vote in favour of reforms would bestow much more power on future governments, which could create even more challenges if the Five Star Movement were to win the next general election.
Italy's referendum will be followed in the new year by elections in the Netherlands and France, where, respectively, the far-right Party for Freedom and the National Front (which both take an extreme negative stance on immigration and the European Union) hope to capitalise on populist sentiment following the election of Donald Trump in the US last month.
The rise of these far-right groups shouldn't go unnoticed, with the majority having gained considerably in popularity since previous elections, as the table below shows. It should be noted too that even if these groups don't attain any real power, they still have a real ability to influence policymaking.

What might this mean for investors?
Volatility to continue to be driven by the timing of elections and referendums, as we saw with the Brexit vote and the US election.
Currency movements to reflect greater political divergence between countries.
A rise in protectionist policymaking, for example the introduction of trade barriers. This could also influence consumer behaviour in favour of domestic goods.
A corporate tax 'arms race', as governments compete to provide the most favourable environment for companies.
Defence spending may rise as countries seek to protect their borders.