Emerging markets continue to benefit from strong demand for both hard and local-currency debt, with net bond inflows for the year now totalling USD38.1bn. This has been driven by a number of factors: an upturn in global growth, stable Federal Reserve rate expectations, and a significant broad-based improvement in external balances across the developing world, which has reduced vulnerability to rising US cash rates.
Furthermore, with inflationary pressures still subdued (helped by lower food inflation), we believe emerging-market (EM) real yields (i.e. nominal yields minus headline year-on-year inflation) remain very attractive despite the year-to-date rally, particularly relative to developed markets (DM). Essentially, if you want positive real yields, you buy EMs – they dominate constituents of the positive bars to the right of the chart below. Moreover, the relative attractiveness in a DM context of (almost positive) real yields on US Treasuries offers support to US dollar-denominated EM government debt, priced at a spread premium over US sovereign issuance.
JP Morgan EMBI+ (Emerging Market Bonds Index Plus) spreads have remained relatively stable over the last four months (c.325bps), despite strong inflows. Hence, we are not anticipating any significant compression of borrowing cost premiums at the current time. Nonetheless, we think the improved fundamentals and favourable 'carry' backdrop support a retention of EM exposure over the summer months, with local-currency exposure favouring selective investment-grade markets offering attractive real yields, such as Peru, Mexico and India.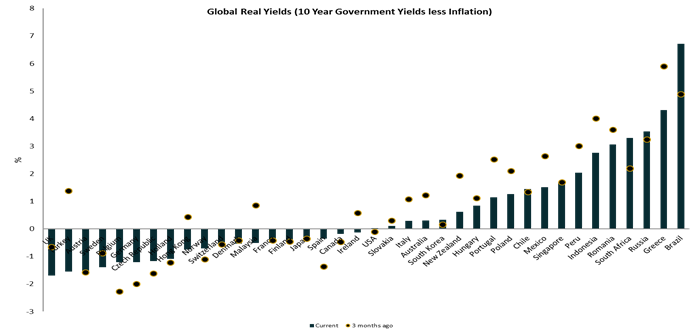 Source: Bloomberg, 01/06/17
That said, and as previously highlighted, we are mindful that the current pace of recovery in EM output and global trade (entailing double-digit year-on-year export growth across much of Asia) is unlikely to be sustained. Data from China this week provided further confirmation of a likely slowdown in economic activity from the strong +6.9% year-on-year expansion to April, amid ongoing monetary and fiscal policy tightening. Indeed, forward-looking indicators have steadily declined from their late-2016/early-2017 highs, with the latest drop in the manufacturing purchasing managers' indices (PMI) to sub-50 indicative of contraction (see chart below).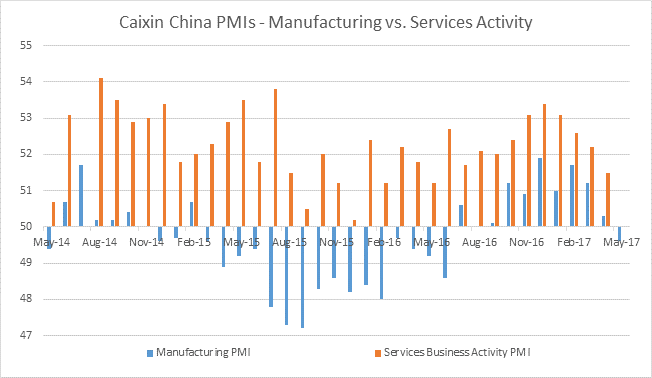 Source: Bloomberg, 01/06/17
Wider Asian manufacturing PMIs have also shown recent signs of softening (Japan and the Philippines aside), and China's growth deceleration is likely to further weigh on exports and sentiment over the coming months, particularly given elevated commodity and electronics inventories – China's iron ore stocks, for example, are at clear post-2009 highs.
Consequently, we are happy to continue to hedge our EM carry with short positions in some of those relatively low-yielding currencies vulnerable to any trade and commodity price weakness as the year progresses, so we are short Chilean peso, Australian dollar and Singapore dollar positions, for example.
Any reference to a specific security, country or sector should not be construed as a recommendation to buy or sell investments in those countries or sectors. Please note that holdings and positioning are subject to change without notice. Compared to more established economies, the value of investments in emerging markets may be subject to greater volatility owing to differences in generally accepted accounting principles or from economic, political instability or less developed market practices.