Charities' investment decisions are increasingly being influenced by issues such as climate and sustainability, as they start to see the financial benefits of engaging with companies on environmental, social and governance (ESG) factors.
Here are some of the key findings from our latest survey of leaders and decision-makers in the UK charity sector, which covers diverse aspects of the management of charitable portfolios:
The perception of ESG engagement has changed since last year, with charities beginning to see the financial benefits of engagement.
63% of charities feel that ESG engagement has an impact on investment performance – down from 70% in 2018. However, in 2018, only 41% of charities who felt that ESG engagement had an impact on performance felt that this impact was positive, but in 2019 this figure has risen to 62%.
Climate change has emerged as a significant consideration for charitable organisations.
64% of charities feel that it is their responsibility to think about climate change, with almost a third of charities coming under pressure from their stakeholders to look at topics related to climate change.
How do charities view their responsibilities in relation to climate change?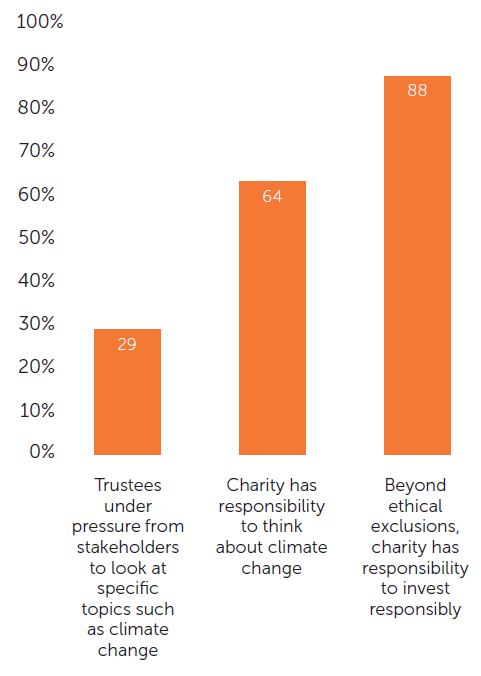 Data set: No. of respondents: 102
Positive experiences with engagement among this year's participants bring with them a favourable view of engagement as a method for ensuring that climate-change factors are considered in portfolios.
70% of charities feel that engagement is the best approach to ensuring climate-change factors are considered, while 24% feel that divesting from companies with environmentally intensive practices is the best approach.
What is the best approach for ensuring climate-change factors are considered in the management of investment portfolios?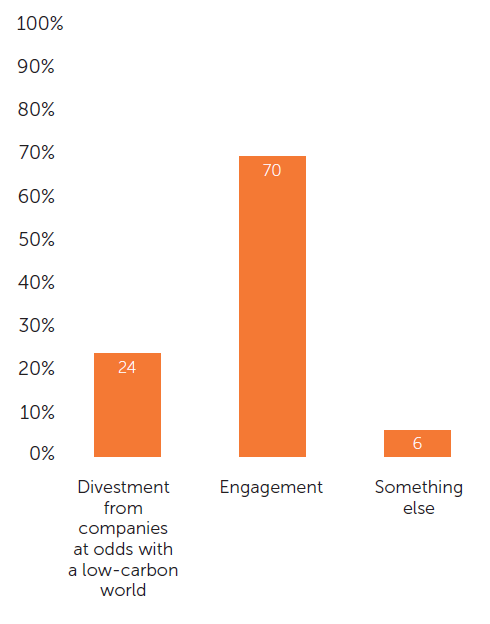 Data set: No. of respondents: 102
The emerging prominence of climate change has implications for fossil-fuel investment.
Ethical exclusion of fossil fuels has increased from 24% to 32% between 2016 and 2019, but there could be more disruption to come. The proportion of charities that are set to discuss fossil-fuel-free investing in the next 12 months (having previously done so and taken no action) has doubled, from 24% in 2018 to 48% in 2019.
While anticipating improved investment performance over the next 3-5 years, charities do not appear to have the courage of their convictions, and strong expectations of performance have not led to plans to increase spending.
18% state that strong investment returns in the past will lead to increased spending, with 80% of charities saying that returns have not affected spending. 2% plan to reduce spending in line with returns. When it comes to future expectations, however, just 6% of charities plan to increase spending as a result of expectations, with 94% holding firm.
Has investment performance affected spending?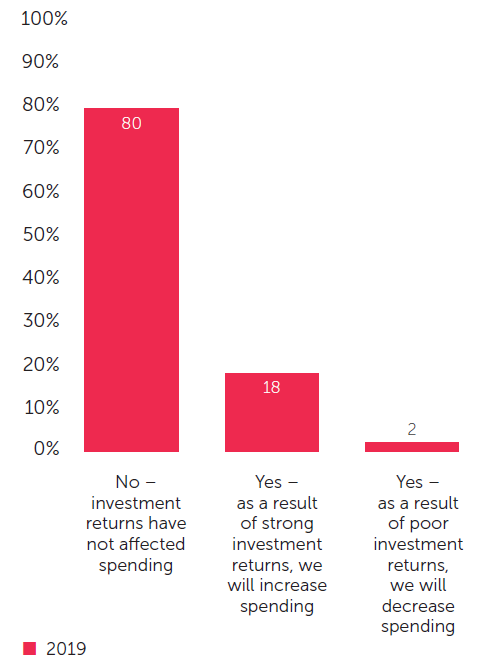 Data set: No. of respondents: 102
For the first time in the six years of the Newton Charity Investment Survey, charities' allocation to overseas equities and bonds has overtaken their exposure to UK equities and bonds, with overseas assets at 39% and UK assets at 38%.
Allocation to UK bonds has fallen by almost half, while there have been small increases in exposure to both overseas equities and overseas bonds. In 2018, allocation to UK assets exceeded that of overseas assets by 44% to 36%.
More about the survey
The Newton Charity Investment Survey included 102 charities with investment assets of almost £14 billion. Fieldwork took place between 23 April and 5 July 2019, with a record date for data regarding annual investment performance of 31 March 2019. For the majority of questions in the survey, six years' worth of data has now been collected, allowing for trend analysis, as well as an analysis of the impacts of political and social developments on investment performance and strategy over time.
View the full survey report here.
This is a financial promotion. These opinions should not be construed as investment or other advice and are subject to change. This material is for information purposes only. This material is for professional investors only. Any reference to a specific security, country or sector should not be construed as a recommendation to buy or sell investments in those countries or sectors. Please note that holdings and positioning are subject to change without notice.