As 2020 drew to a close, new-year fireworks celebrations around the world were cancelled or scaled back as many countries struggled to contain spikes in coronavirus cases. However, there were some pyrotechnics in equity markets during the fourth quarter as a series of events boosted sentiment and enabled market participants to look beyond the near-term economic impact of continued virus-related restrictions and lockdowns.
At the start of the quarter, markets were beset with heightened volatility as investors became increasingly concerned about the rising rate of Covid-19 cases in Europe and the US, while fears grew that a close US presidential election result could be contested, offering the prospect of continued uncertainty and even the potential for civil unrest. Against this backdrop, the final week of October was the worst for global equities since March, when worries over the emerging pandemic had gripped markets.

However, two key developments in early November served to reignite the flames under global stock markets, leading the MSCI All Countries World index of developed and emerging-market equities to experience its best month on record with a return of +12.2% in US-dollar terms.1
First, the outcome of the US election was widely viewed as benign for financial markets. Democrat Joe Biden, named as president-elect on 7 November, is expected to return the US to the more global, multilateral approach to which investors had been accustomed prior to 2016. Furthermore, the projection that Republicans would maintain control of the Senate (subsequently proven wrong after run-off elections in early January) led to an assumption that Biden would be unable to deliver what were seen as some of the less market-friendly aspects of his manifesto, such as corporate tax hikes.

Second, while investors were still digesting the US election fallout, it was announced that one of the Covid-19 vaccines under development had been found to be more than 90% effective in clinical trials, and could be available for use by the end of the year, thereby opening the door to normalisation of social and economic activity in 2021. As positive news on other leading vaccine contenders soon followed, the scene was set for a sharp rotation into more economically sensitive industries – such as banks, energy businesses and airlines – as the outlook for those sectors that have suffered the most under the virus restrictions appeared to improve materially.
While further lockdowns in Europe and the UK, where a more transmissible variant of the coronavirus was discovered, tempered the market rally in December, investors' nerves were calmed by the US Federal Reserve's (Fed) decision to continue its debt- purchase programme, while the European Central Bank (ECB) also launched a fresh wave of monetary stimulus. Finally, in the closing days of the year, markets were buoyed by the eleventh-hour agreement of a Brexit trade deal between the UK and European Union (EU), and the signing into law of a US$900 billion emergency Covid-19 fiscal stimulus package in the US.
In fixed income markets, government bonds avoided a significant sell-off in spite of the strong performance from risk assets, as uncertainties over the threats from the latest virus waves helped to maintain support for the 'safe-haven' qualities of the asset class. In the UK, the FTA Government All Stocks Index (gilts) delivered a return of +0.6% over the quarter (+8.3% over the 12 months to 31 December). Meanwhile, the relative strength of sterling meant that the JPM Global Government Bond Index (excluding the UK) delivered a negative return of -3.6% in sterling terms for the quarter, with a calendar-year return of +6.1%. Corporate bonds, as represented by the BofA ML Sterling Non-Gilts Index, returned +3.2% for the quarter (+8.0% over 12 months).2
Equity markets
Total returns (£), rebased to 100 at 31.12.19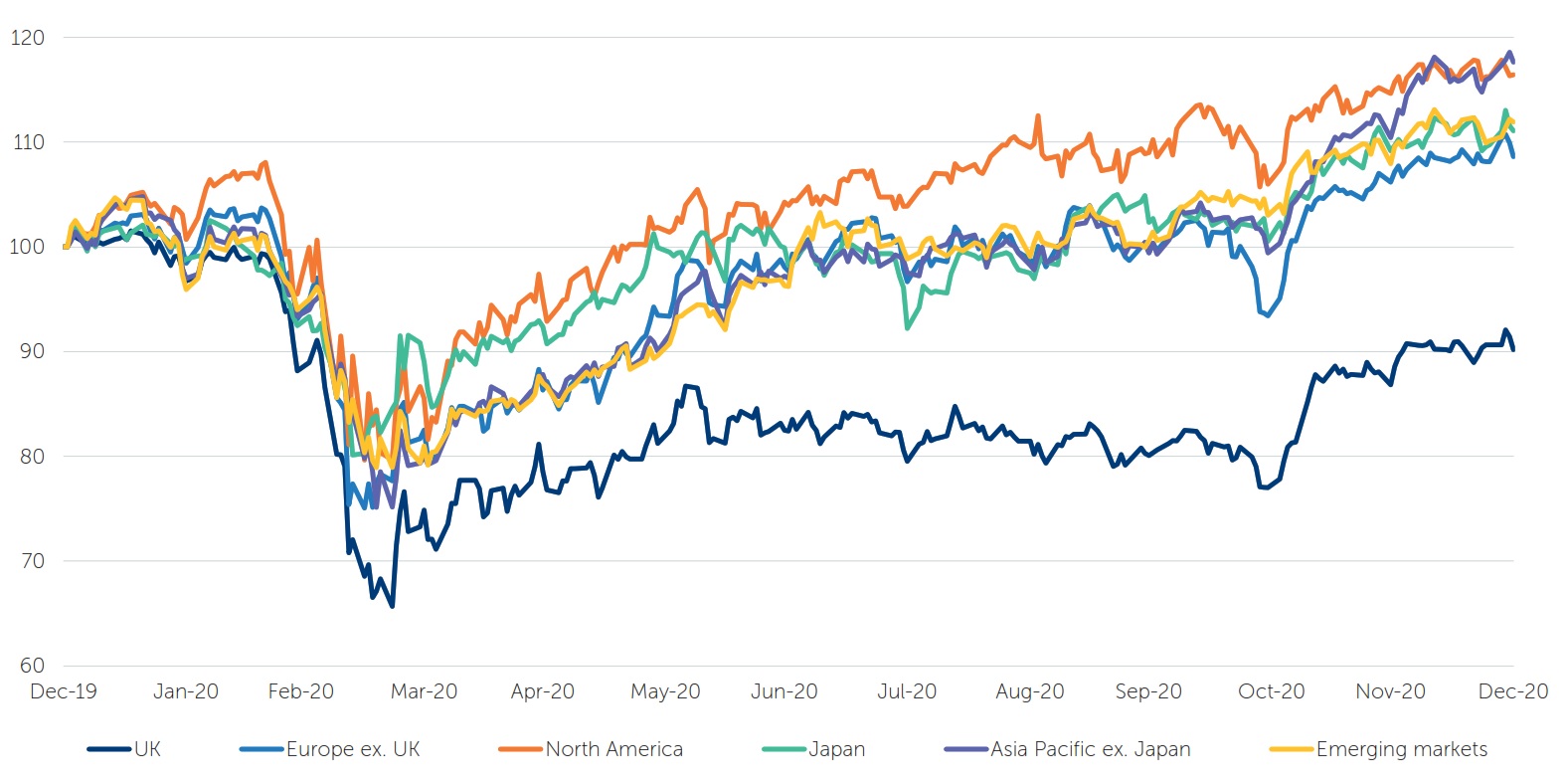 Note: all indices are FTSE series.
Source: Factset, January 2021.
All major equity markets delivered strong positive returns. Asia Pacific ex Japan equities produced a return of +18.3% in sterling terms over the quarter (+17.6% over the 12-month period), while emerging-market equities returned +11.2% (+11.9% over 12 months). UK equities delivered a strong quarterly return of +12.6%, although the market was still the clear laggard over the year as a whole with a negative return of -9.8%. Meanwhile, Europe ex UK stocks returned +9.2% in sterling terms over the quarter (+8.6% over 12 months), Japanese equities returned +8.5% (+11.1%), while North American equities returned +6.8% to UK-based investors over the quarter (+16.4% over 2020 as a whole).3
Gold produced a modest quarterly return of +0.7% in US-dollar terms, taking its 12-month return to +25.1%. In sterling terms the precious metal delivered -4.8% (+21.4% over the calendar year).4
While the US economy rebounded at a record pace in the third quarter – with gross domestic product (GDP) jumping 33.1% on an annualised basis5 – it has not yet returned to pre-pandemic levels. Based on December projections from Federal Open Market Committee (FOMC) members, the economy is expected to have shrunk by 2.4% in 2020, while growth of 4.2% is predicted for 2021.6
US real gross domestic product (US$ trillion)

Source: US Bureau of Economic Analysis, October 2020.
The Fed has committed to keep purchasing at least US$120 billion of debt per month until "substantial further progress" has been made on the economic recovery, while pledging to keep interest rates near zero until maximum employment is reached and inflation is on track to exceed its 2% target for some time.7 Chair Jay Powell said that the Fed's latest guidance sent a "powerful message" about the central bank's resolve to keep supporting the recovery.8
Powell also highlighted the importance of fiscal policy in tackling the economic downturn. The US$900 billion coronavirus stimulus package, which received bipartisan support and was finally signed off by President Trump on 27 December, will provide assistance for Americans who have lost their jobs, as well as providing funds for struggling industries such as airlines. President- elect Biden has indicated that his new administration will need to take further action to revive the economy. With the Democrats gaining control of the Senate following the Georgia run-off elections in early January, he will have more room to pursue the Democratic agenda of infrastructure spending and greater fiscal largesse.

With the UK becoming the first country to administer Covid-19 vaccines outside clinical trials, the second person to receive a jab was an 81-year-old man named William Shakespeare.9 As the country finally sealed a trade agreement with the EU on 24 December after years of tortuous negotiations and acrimony, his playwright namesake might have declared that "all's well that ends well". Certainly the deal, which guarantees tariff-free trade on most goods, was welcomed by business groups, and sterling reached its highest level of the year against the US dollar on the final day of 2020.10 However, it is estimated that the additional burden of customs declarations could cost British companies trading with the EU an additional £7 billion a year,11 while the lack of focus on services – which form around 80% of Britain's economy and nearly half its exports – is likely to have an immediate impact on many businesses, particularly in the financial sector.
With coronavirus-related restrictions being reinstated during the quarter, the UK's economic recovery has stalled, and the Office for Budget Responsibility does not expect GDP to reach its pre-pandemic level until the end of 2022.12 Nevertheless, with UK equities having underperformed global equities since the 2016 Brexit referendum, opportunities could arise for investors in domestic assets, whose prices arguably reflect a great deal of pessimism already.
As with other major economies, the prospect of continued economic lockdowns has hampered the recovery in Europe. ECB President Christine Lagarde predicted that the eurozone economy would contract by 2.2% in the fourth quarter and that the downturn would continue into early 2021. On a more positive note, she suggested that the economy should "begin to function under more normal circumstances" once vaccines have been rolled out by the end of 2021.13
Recognising the need for significant monetary stimulus to be maintained, in December the ECB announced an increase in the size of its pandemic emergency purchase programme (PEPP) from €1.35 trillion to €1.85 trillion, while extending its bank financing programme, which aims to preserve favourable bank lending conditions by, in effect, paying banks to borrow money.
The ECB has also maintained a tough stance on bank dividends. Having asked banks to refrain from paying dividends when the pandemic first hit in the spring of 2020, in order to preserve capital, the ECB will permit dividends to be distributed again in 2021, but with limits of 15% of the last two years of profits and 0.2% of common equity tier-one capital ratio.14 This contrasts with the UK, where the Bank of England has imposed less stringent criteria.
While Japan has so far been able to contain the spread of Covid-19 better than many of its counterparts, it has not escaped the economic impact, and a major ¥30.6 trillion (US$294 billion) fiscal stimulus package announced in December – the third of this year – aims to support the post- pandemic recovery by investing in green and digital technologies.15 Following similar pledges from the EU and China, Japan's new Prime Minister Yoshihide Suga has stated that the country will be carbon neutral by 2050, in a bid to tackle climate change. This could prove challenging for a country that relies on fossil fuels for 87% of its primary energy supply, but Suga believes initiatives such as next-generation solar panels and carbon recycling can be a major source of growth.16
China imports and exports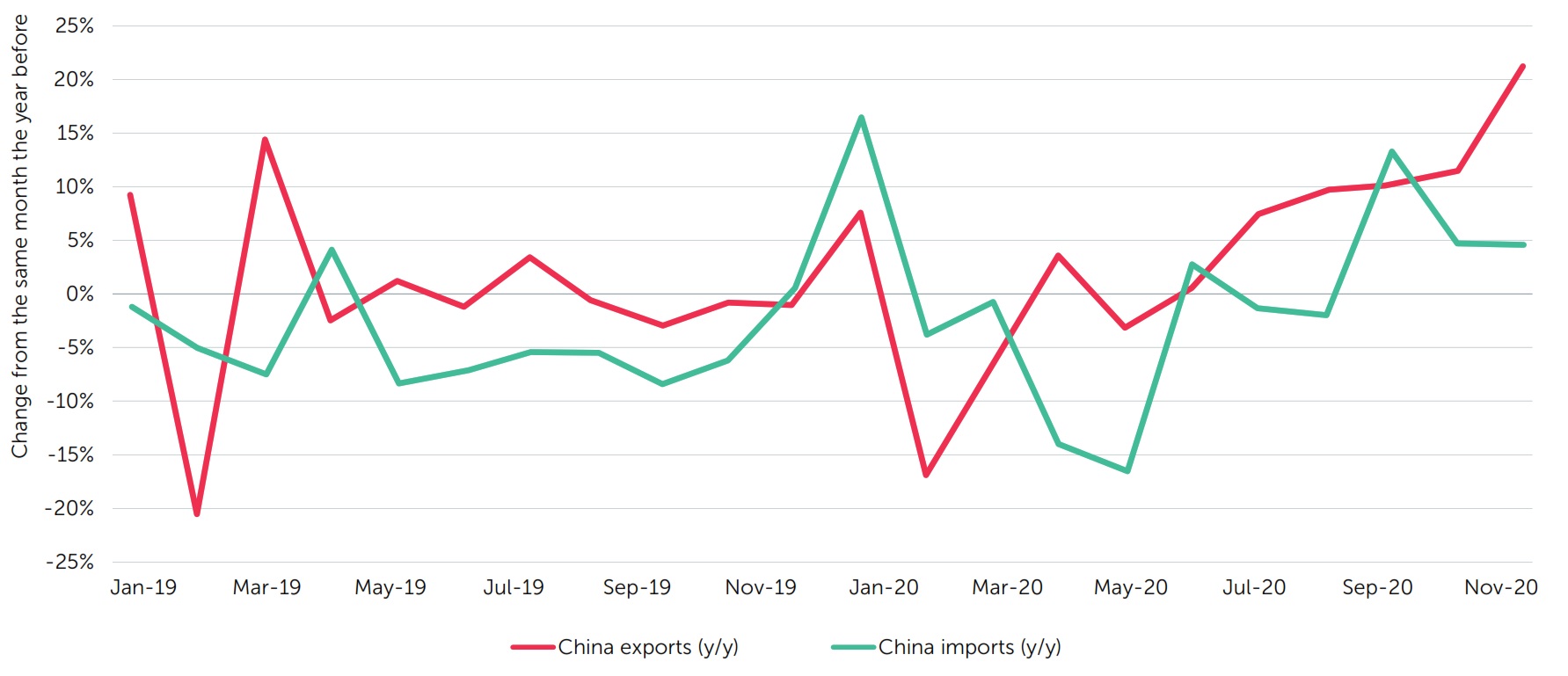 Source: China Customs, December 2020.
Meanwhile, the Bank of Japan has been forced to launch a review of its monetary policy for the first time since 2016, and is considering the possibility of further monetary easing after the pandemic-induced downturn quashed hopes of achieving its 2% inflation target.
With industrial production increasing 7% year on year in November, and retail sales growing by 5%,17 China's economy appears to be returning to levels of growth seen in late 2019 before the pandemic took hold, and the country is likely to be the only major economy to deliver positive GDP growth in 2020. Despite being the original epicentre of the pandemic, China has succeeded in suppressing further virus outbreaks, while growth in industrial production and property investment has been driving the country's recovery, and has led to huge demand for commodities.
China's recovery has been boosted by the growth in exports, which rose by 21.1% in US-dollar terms in November compared to the previous year.18 This large increase may partly be explained by demand for products resulting from the pandemic and lockdowns such as personal protective equipment (PPE) and electronics items, but it also likely to be indicative of a global restocking cycle in action.
All's well that ends well, still the fine's the crown; Whate'er the course, the end is the renown.

William Shakespeare (1564-1616), All's Well That Ends Well
1 https://www.ft.com/content/d785632d-d9a0-45ae-ae57-7b98bb2fb8d6
2 Bond market returns sourced from FactSet, 01.01.21
3 Equity market returns sourced from FactSet, 01.01.21 (All sterling total returns, FTSE World Index)
4 Gold bullion returns sourced from FactSet, 01.01.21
5 https://www.ft.com/content/cc1eca68-a9a0-40bc-a197-7a057e730b73
6 https://www.federalreserve.gov/newsevents/pressreleases/monetary20201216b.htm
7 https://www.federalreserve.gov/newsevents/pressreleases/monetary20201216a.htm
8 https://www.ft.com/content/74b6530e-9d69-43f0-a5d7-3cb363ed5398
9 https://www.bbc.co.uk/news/uk-55233021
10 https://www.ft.com/content/6d0f51a7-dc18-4c3c-8b9e-d0e44feb4276
11 https://www.ft.com/content/fbc6f191-6d69-4dcb-b374-0fa6e48a9a1e
12 https://www.ft.com/content/30b82a2a-909e-47fc-bfd7-76a9169828ff
13 https://www.ft.com/content/378755c2-1427-49dc-aefc-d37977fe40bf
14 https://www.ft.com/content/6873f022-e08f-4d9d-a1b9-8ce401796e56
15 https://www.ft.com/content/2c927471-849c-4635-8844-31b12b91b613
16 https://www.ft.com/content/6335043f-c4d9-4624-9a69-2df517265c01
17 https://www.ft.com/content/9e1e4e6b-c19b-446a-bf78-733c3445a4fe
18 https://www.ft.com/content/99d9fea1-db30-4dd3-a41a-7245a2eb090a
All data is sourced from FactSet unless otherwise stated. All references to dollars are US dollars unless otherwise stated.
Issued by Newton Investment Management Limited, The Bank of New York Mellon Centre, 160 Queen Victoria Street, London, EC4V 4LA. Registered in England No. 01371973. Newton Investment Management is authorised and regulated by the Financial Conduct Authority, 12 Endeavour Square, London, E20 1JN and is a subsidiary of The Bank of New York Mellon Corporation. Newton Investment Management Limited is registered with the SEC as an investment adviser under the Investment Advisers Act of 1940. Newton's investment business is described in Form ADV, Part 1 and 2, which can be obtained from the SEC.gov website or obtained upon request. The opinions expressed in this document are those of Newton and should not be construed as investment advice. Any reference to a specific security, country or sector should not be construed as a recommendation to buy or sell this security, country or sector. To the extent that copyright subsists in any picture used in this document, Newton recognises the copyright therein.