We assess how the pandemic has sharpened the focus of energy companies on the low-carbon energy transition.
Key points
The impact of the pandemic on the oil sector was unprecedented, with oil demand collapsing in 2020 in the wake of global travel bans.
We witnessed a change in mindset, with energy-company management, especially in Europe, committing to energy-reduction targets and increasing spending on renewables and the energy transition.
We are seeing some companies looking to spin off separate energy-transition businesses, while others firmly believe that greatest value lies in continued integration.
We believe more than renewable power alone will be required to achieve net-zero status: capture solutions, natural sinks, efficiency solutions and renewable fuels such as hydrogen all have a part to play.
With the pandemic and social-distancing measures passing their one-year anniversary, it is sometimes hard even to remember what life was like before Covid-19. For over a year, many of us have converted our homes into personal offices, while our travel habits are a mere shadow of those in our pre-pandemic lives.
It is hard to imagine another scenario that could have blurred the lines between work and personal life – and sent shockwaves across both – as much as Covid-19 has done. With today marking Earth Day 2021, it seems an appropriate moment to reflect on the extreme changes wrought by the pandemic upon the modern global-energy system.
Unprecedented impact
The impact on the oil sector has been unprecedented, with oil demand collapsing in the wake of pandemic-induced global travel bans. The International Energy Agency (IEA) estimated in its 2020 energy outlook report that global emissions decreased by 5% over the year, returning to levels last seen a decade ago.
The IEA chart below highlights the marked drop-off in demand for energy in 2020 versus the previous year, with energy investment falling sharply, and only renewable energy seeing an increase in demand year on year.
Key estimated energy demand, CO2 emissions and investment indicators, 2020 relative to 2019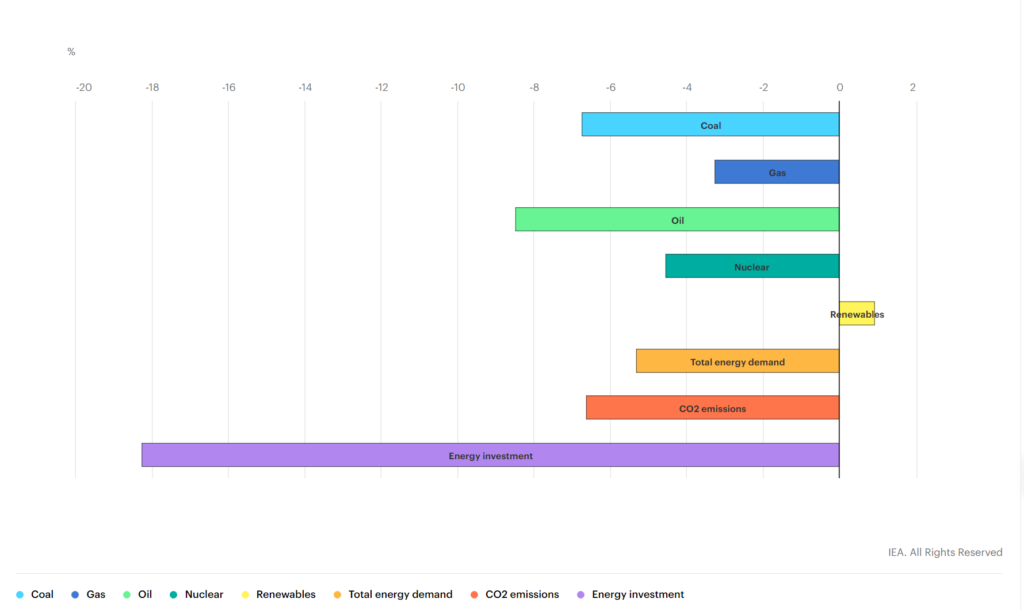 Source: IEA, World Energy Outlook 2020, October 2020
The age of peak demand
Over my five years at Newton, I have had the opportunity to engage with energy companies, and have had the ear of management teams grappling with the realities and difficulties of the energy transition. The emergence of collective international agreement on limiting global emissions at the Paris Climate Agreement in 2015 (ratified in 2016), coincided with a severe oil-price downturn driven by oversupply. Taken together, the two factors led to a pivotal realisation in the sector; we were entering the age of peak demand.
When I think back to my conversations with company management at the time about energy-transition strategies, it was certainly a long and progressive process. I recall a good deal of hesitation and conservatism, while in many cases the reaction was stronger – I remember dismissal, denial and, at times, even outright hostility.
Change of mindset
At best, management teams promised to move in tandem with society, while others resisted any challenge calling on them to reduce oil production, or to explore different segments of the energy chain, such as power. These conversations continued right up until the initial Covid-19 lockdowns of March 2020, when the industry went into crisis as demand plummeted. We witnessed a sudden change in mindset; the commitments we had sought from energy companies for years through active engagement were manifesting themselves in the space of just a few months. At times, it seemed like I was listening to entirely different management teams, and it was soon abundantly clear that meaningful change was finally afoot.
What was different this time was that it went beyond mere words and communications – we witnessed clear strategic shifts and revised emissions targets across the energy sector. These have been laid out more explicitly than ever before, and, more importantly, capital expenditure has been allocated to energy-transition solutions, which have progressively been increasing as a part of companies' overall spending.
At the moment, much of this shift remains rather Eurocentric, with energy-sector peers starting to differentiate their strategies. Bigger oil names are looking to adopt broader integrated energy models, while others are focusing on key end markets and product solutions, including renewable-power generation.
Already, we are seeing some companies looking to spin off separate energy-transition businesses, while others firmly believe that greatest value lies in continued integration. We have even seen companies announce aggressive oil-production fade targets, while others have noted their production targets have peaked.
US to catch up?
In the US, oil companies are still grappling with this new reality, and the communication from these management teams reminds me of where things had been in Europe prior to the pandemic. But it is clear that with the recent change in administration in the US, and the country's subsequent rejoining of the Paris Climate Agreement, oil companies can no longer ignore the need for a lower-carbon energy transition. The chart below illustrates how renewables are leading the charge towards lower emissions, and how dramatically the energy mix could change by 2050.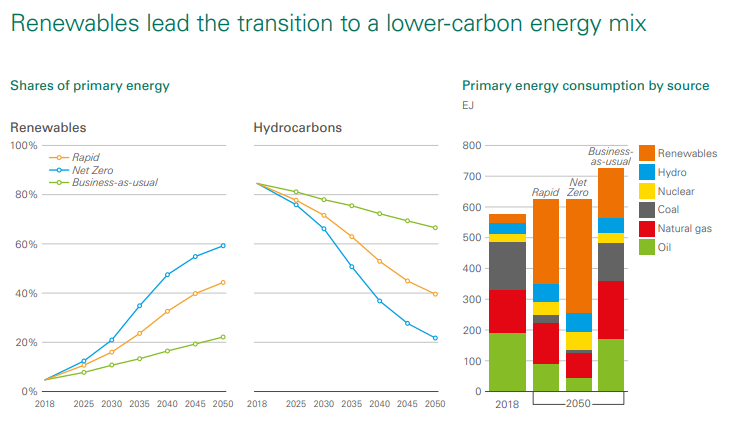 Source: BP Energy Outlook, 2020 edition
Heeding the warning this time
We see striking parallels between the global pandemic and climate change, in that many of the warning signs from experts went unheeded, before the full magnitude became apparent. In our view, most nations failed to sufficiently prepare themselves for a global pandemic, and we believe that their slow response has only reinforced the need to act today on climate change; there is no simple cure or vaccine for over-emitting. Our view is that 2020 and the Covid-19 pandemic will be marked down in history as a critical juncture and catalyst for meaningful climate action.
Already we can see policy shifting, and, importantly, societal sentiment too. In Europe, emission- reduction targets are accelerating (from 40% to 55% by 2030), while globally over 110 countries have pledged to reach 'net zero' by 2050. However, it is two recent additions to the net-zero pledge that command most excitement: both the US and China are adopting net-zero strategies, which, combined, account for over 40% of annual global emissions, as the chart below shows.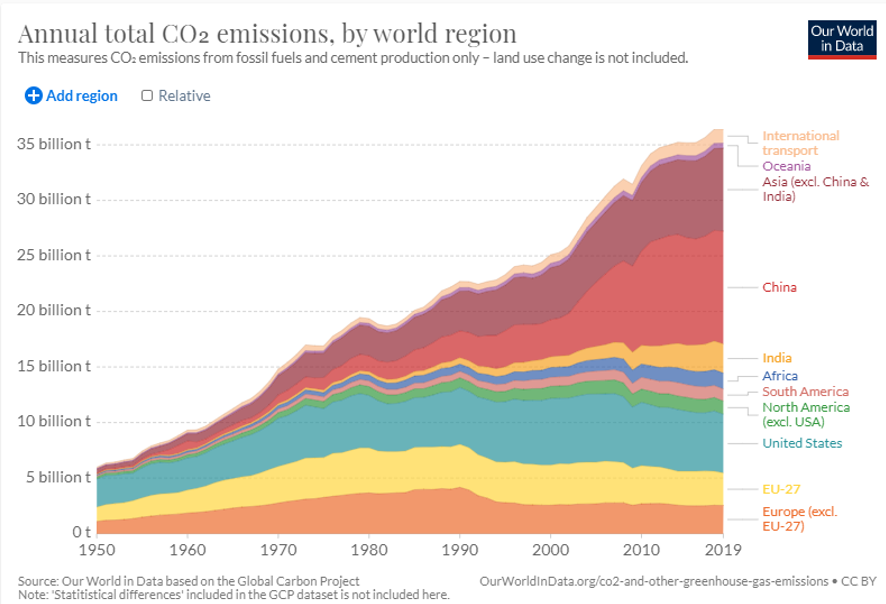 Source: CO2 emissions, Our World in Data (ourworldindata.org), 2020
There are a number of solutions available in the energy toolkit, and, despite the chaos of 2020, it is encouraging that renewables continued to grow last year. But to achieve net-zero status, we need a holistic approach that goes beyond renewable power alone. We believe that approach needs to encompass capture solutions, natural sinks, efficiency solutions and renewable fuels such as hydrogen.
The journey to net zero
One concern is that a fixation on finding perfect solutions to tackle climate change could impede the ultimate aim, which is to bring cumulative emissions to a peak and then to avoid catastrophic climate impacts. This process may initially need to lean on imperfect substitutions (phasing out coal for low-carbon gas before fully transitioning to renewables, for example), so we must not lose sight of the importance of the journey to get us to net zero, rather than simply focusing on the end destination itself.
Finally, it seems appropriate to end on the pertinence of today being Earth Day 2021. The theme this year is "restore our Earth", which comes with a stated focus on "natural processes, emerging green technologies and innovative thinking that can restore the world's ecosystems". No doubt this presents our energy system with challenges, but at the same time, as investors, this is a very exciting opportunity.
As an analyst within a team which is constantly engaging with oil & gas company management, I have greater conviction than ever that oil companies will successfully be able to build out transition businesses that not only diversify their earnings, but also accelerate the pace of the transition to realise a sustainable and affordable energy system which can chime with the Earth Day focus points above. Despite all the challenges that 2020 threw at us, I am hopeful, and confident, that we are on a better path.
This is a financial promotion. These opinions should not be construed as investment or other advice and are subject to change. This material is for information purposes only. This material is for professional investors only. Any reference to a specific security, country or sector should not be construed as a recommendation to buy or sell investments in those securities, countries or sectors. Please note that holdings and positioning are subject to change without notice. [General regulatory disclosures] Issued by Newton Investment Management Limited, The Bank of New York Mellon Centre, 160 Queen Victoria Street, London, EC4V 4LA. Registered in England No. 01371973. Newton Investment Management is authorised and regulated by the Financial Conduct Authority, 12 Endeavour Square, London, E20 1JN and is a subsidiary of The Bank of New York Mellon Corporation. Newton Investment Management Limited is registered with the SEC as an investment adviser under the Investment Advisers Act of 1940. Newton's investment business is described in Form ADV, Part 1 and 2, which can be obtained from the SEC.gov website or obtained upon request. 'Newton' and/or 'Newton Investment Management' brand refers to Newton Investment Management Limited.
Important information
This material is for Australian wholesale clients only and is not intended for distribution to, nor should it be relied upon by, retail clients. This information has not been prepared to take into account the investment objectives, financial objectives or particular needs of any particular person. Before making an investment decision you should carefully consider, with or without the assistance of a financial adviser, whether such an investment strategy is appropriate in light of your particular investment needs, objectives and financial circumstances.
Newton Investment Management Limited is exempt from the requirement to hold an Australian financial services licence in respect of the financial services it provides to wholesale clients in Australia and is authorised and regulated by the Financial Conduct Authority of the UK under UK laws, which differ from Australian laws.
Newton Investment Management Limited (Newton) is authorised and regulated in the UK by the Financial Conduct Authority (FCA), 12 Endeavour Square, London, E20 1JN. Newton is providing financial services to wholesale clients in Australia in reliance on ASIC Corporations (Repeal and Transitional) Instrument 2016/396, a copy of which is on the website of the Australian Securities and Investments Commission, www.asic.gov.au. The instrument exempts entities that are authorised and regulated in the UK by the FCA, such as Newton, from the need to hold an Australian financial services license under the Corporations Act 2001 for certain financial services provided to Australian wholesale clients on certain conditions. Financial services provided by Newton are regulated by the FCA under the laws and regulatory requirements of the United Kingdom, which are different to the laws applying in Australia.