In early 2021, we identified the sustainability of our food system as one of our engagement policy objectives. Our objective is to engage with companies around their strategies to reduce the social and environmental impacts of food products and operations across the full value chain. Our intended outcome of this engagement topic is to see improvements in the nutritional quality of food without placing a greater strain on the environment, and to help ensure that global populations have access to affordable, healthy and sufficient food.
The environmental impacts of our food system
The Intergovernmental Panel on Climate Change (IPCC) estimates that agriculture is responsible for 10-12% of global human-induced greenhouse-gas emissions.1 Moreover, around half of all habitable land is taken up by agriculture,2 while 70% of all the freshwater consumed globally is used for agricultural purposes,3 much of this to support the production of animal protein. The negative environmental impacts of food production are extensive and often interlinked, ranging from contribution to climate change to biodiversity loss, both also key engagement priorities for us. Animal agriculture specifically is responsible for a significant portion of this damage to our environment. For example, in the European Union (EU), it is estimated that nearly 70% of agricultural greenhouse-gas emissions are derived from the animal sector.4 For this reason, we are members of Farm Animal Investment Risk and Return (FAIRR), an investor network which aims to raise awareness of the environmental, social and governance issues around intensive livestock production, and we use this as part of our engagement strategy.
What are the environmental impacts of food and agriculture?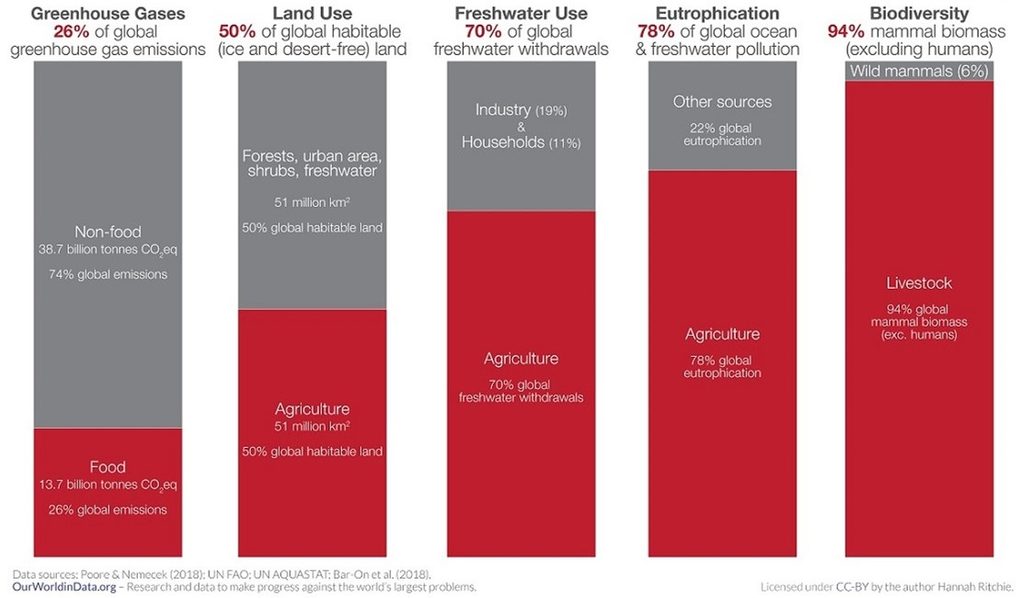 Source: Our World in Data, 20205
Collaborative engagement with FAIRR
In recent years, Newton has supported FAIRR's sustainable protein engagement, which focuses on encouraging food retailers and manufacturers to use protein diversification to help towards mitigating climate risks, and to meet evolving consumer demand preferences. FAIRR observes that the Covid-19 outbreak and ensuing pandemic have highlighted the fragility of animal supply chains, as well as the risks these pose to human health. This engagement now focuses on 25 global companies and encourages these businesses to set time-bound commitments in order to support the transition to diets containing fewer, higher-quality animal proteins, and more plant-based and alternative proteins. Positively, as of 2021, 23 of the 25 companies provided some form of response, and all companies in the engagement acknowledged protein diversification as a material business issue.
As part of this engagement, we have supported letters to eight investee companies, participated in FAIRR co-ordinated collective discussions with Nestlé and Tesco as both equity and debt holders, and engaged directly with businesses including Costco, Unilever and Sainsbury's on this topic. We have been pleased to see Nestlé, Tesco, Unilever and Sainsbury's set board-level, public commitments around portfolio transformation, and receive recognition as strong performers by FAIRR. In addition, 14 of the 15 food retailers in FAIRR's engagement launched plant-based private-label products in 2021, and all manufacturers assessed had expanded their alternative protein product portfolio.
The role of protein diversification as a climate-mitigation tool and/or driver of growth has become a key agenda item in corporate board-level discussions. All 25 companies in the engagement now recognise protein diversification as a material issue for their business… This is in stark contrast to five years ago, when none of the companies in the engagement recognised the need for a protein transition.

FAIRR: Progress update – summary of findings6
The market for plant-based and alternative food products
Our engagements have provided us with deeper insights into how retailers and manufacturers are embracing opportunities where consumer demand is growing and where they see opportunities for future product expansion. For example, at Nestlé approximately 10% of research and development personnel are focused on plant-based foods, and it has developed an option to fast-track the process to ensure that products reach the market quickly. The company sees opportunities in more complex plant-based products, beyond the already commoditised milk alternatives, in areas such as pizza, frozen meals and ice creams. Nestlé also views plant-based seafood as an exciting opportunity, which could reduce the damage on the biodiversity within our oceans.
In addition, Tesco was the first UK retailer to set a target specifically relating to alternative protein: to increase sales of these products by 300% by 2025. Our discussions highlighted that Tesco set this to reflect the pace of change, and to encourage further development from its supplier base. The company believes cost parity with traditional meat is essential given that price is a key driver of consumer sales, and as scale increases, costs should continue to fall. It is also prioritising store promotions, and hopes that stores of all sizes and locations will have at least one promotion on alternative proteins at any point in time.
Thought leadership
We have also worked with FAIRR to contribute to the evolution in the understanding and public reporting of this topic. This involved acting as one of three investors to moderate in the FAIRR and GFI (Good Food Institute) round table on portfolio diversification, where investors, companies, specialist non-governmental organisations and industry groups debated how companies could best report on their product portfolios regarding animal and alternative proteins. There was consensus that protein diversification should be approached comprehensively, interweaving sustainability and nutrition, and that metrics must help understand how consumers are shifting from one category to another. However, it also brought to the fore several challenges, such as a lack of clear definitions and the need for support for food retailers and manufacturers to enable them to clearly communicate information on alternative proteins in a way that makes sense for their businesses, but is not overly resource-intensive. We are pleased to have contributed to the ultimate output that leads the way in offering a standardised way for this issue to be reported on, aiding investor analysis of companies, and holding companies to account of their rhetoric with comparable data. More information can be found on the FAIRR website.
The framework incorporates cutting-edge research into the ESG risks and opportunities involved in the transition to a sustainable protein production system. The framework is designed as a tool for companies…to use for disclosure guidance, for navigating the ESG risks and opportunities of alternative proteins, and for drawing comparisons between its animal and alternative proteins business.

FAIRR & GFI Alternative Proteins ESG Reporting Technical Guide for Diversified Companies, 20227
Looking to the future
We have been pleased to see the evolution in corporate thinking over the course of our engagements on animal and diversified proteins alongside FAIRR. As scrutiny on the environmental impacts of animal products grows, in particular given its links to deforestation, antibiotic resistance and pandemic risks, as well as its impact on climate change and water scarcity, we expect to see an acceleration in corporate strategies offering protein products that are healthy for consumers, the environment and society at large.
We will continue to engage with investee companies on this topic, encouraging further public commitments around plant-based sales, and ensuring that companies are held accountable for meeting the ambitions they set. We also hope to better understand how internal and capital resources will be allocated to this transition, and the role that product portfolios will play in companies meeting their climate and broader environmental goals.
1Agriculture, Forestry and Other Land Use (AFOLU), Climate Change 2014: Mitigation of Climate Change. Contribution of Working Group III to the Fifth Assessment Report of the Intergovernmental Panel on Climate Change, 2014
2 Half of the world's habitable land is used for agriculture, Our World in Data, 11 November 2019
3 Water use in agriculture, OECD, accessed 8 October 2021
4 ECA based on Poore, J. and Nemecek, T.: Reducing food's environmental impacts through producers and consumers, 2018.
5 Environmental impacts of food production. Published online at OurWorldInData.org., June 2021
6 Progress update – summary of findings, FAIRR
7 FAIRR & GFI Alternative Proteins ESG Reporting Technical Guide for Diversified Companies, FAIRR, 2022
Important information
This is a financial promotion. These opinions should not be construed as investment or other advice and are subject to change. This material is for information purposes only. This material is for professional investors only. Any reference to a specific security, country or sector should not be construed as a recommendation to buy or sell investments in those securities, countries or sectors. Please note that holdings and positioning are subject to change without notice. Newton manages a variety of investment strategies. Whether and how ESG considerations are assessed or integrated into Newton's strategies depends on the asset classes and/or the particular strategy involved, as well as the research and investment approach of each Newton firm. ESG may not be considered for each individual investment and, where ESG is considered, other attributes of an investment may outweigh ESG considerations when making investment decisions.
Issued by Newton Investment Management Ltd. 'Newton' and/or 'Newton Investment Management' is a corporate brand which refers to the following group of affiliated companies: Newton Investment Management Limited (NIM) and Newton Investment Management North America LLC (NIMNA). NIMNA was established in 2021 and is comprised of the equity and multi-asset teams from an affiliate, Mellon Investments Corporation. In the United Kingdom, NIM is authorised and regulated by the Financial Conduct Authority (FCA), 12 Endeavour Square, London, E20 1JN, in the conduct of investment business. Registered in England no. 1371973. NIM and NIMNA are both registered as investment advisors with the Securities & Exchange Commission (SEC) to offer investment advisory services in the United States. NIM's investment business in the United States is described in Form ADV, Part 1 and 2, which can be obtained from the SEC.gov website or obtained upon request. Both firms are indirect subsidiaries of The Bank of New York Mellon Corporation ('BNY Mellon'). This material is for Australian wholesale clients only and is not intended for distribution to, nor should it be relied upon by, retail clients. This information has not been prepared to take into account the investment objectives, financial objectives or particular needs of any particular person. Before making an investment decision you should carefully consider, with or without the assistance of a financial adviser, whether such an investment strategy is appropriate in light of your particular investment needs, objectives and financial circumstances. Newton Investment Management Limited is exempt from the requirement to hold an Australian financial services licence in respect of the financial services it provides to wholesale clients in Australia and is authorised and regulated by the Financial Conduct Authority of the UK under UK laws, which differ from Australian laws. Newton is providing financial services to wholesale clients in Australia in reliance on ASIC Corporations (Repeal and Transitional) Instrument 2016/396, a copy of which is on the website of the Australian Securities and Investments Commission, www.asic.gov.au. The instrument exempts entities that are authorised and regulated in the UK by the FCA, such as Newton, from the need to hold an Australian financial services license under the Corporations Act 2001 for certain financial services provided to Australian wholesale clients on certain conditions. Financial services provided by Newton are regulated by the FCA under the laws and regulatory requirements of the United Kingdom, which are different to the laws applying in Australia.